Singing sensation gets her big break
Thursday, 8th April 1999.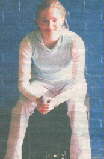 A 16-YEAR-OLD girl from Barnardiston hoping to be the next pop sensation is set to record her debut single this week.
Kirsten Gundersen, of Hall Road, a pupil at Saffron Walden County High School, is due to begin her GCSE examinations but will first go to the Zig Zag Studios in Hilton, with her self-penned song Not Enough.
With her will be some of the musicians she has been working with for the last two months at the regular music workshops run by the Gateway to Music group at The Junction in Cambridge.
Group chairman Paul Maguire, a team of instructors and special guests from bands run the "Junction Jam" every Saturday at the venue, offering teaching of particular instruments and advice about every aspect of making music.
Kirsten, who has been performing for four or five years and began writing her own songs at the beginning of last year, said she could not wait for the big day.
Last year she signed a publishing deal with Arena Warner Chappeli, an offshoot of Warner Bros, and made some demo recordings.
She described Not Enough as a pop ballad but said it was hard to say which other artists it sounded like.
"Itís quite original ó Iíve tried not to base my music on anyone," she explained.

Comment on this story
[board listing] [login] [register]
You must be logged in to post messages. (login now)