Six guinea-pigs enjoy hypnotic approach to slimming
Friday, 10th December 2010.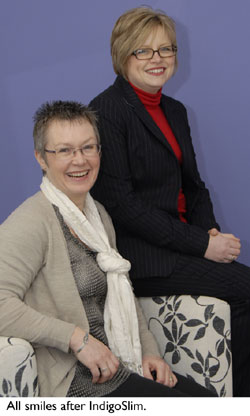 Six women who took part in a trial slimming programme by hypnotherapy through a Haverhill counsellor have given such positive feedback that another programme is planned for the new year.
With Christmas and New Year almost upon us, it is a time when many people are looking ahead to January 2011 and resolving to make significant changes to their lifestyle.
Rather than starting a crash diet and battling with it throughout January and maybe even February before giving up or embarking on an impossible-to-maintain exercise regime, Indigo Hypnotherapy and Counselling developed an eight-week programme designed to change attitudes towards food forever.
The programme, called IndigoSlim, focuses on training the subconscious mind not to respond automatically to cues from the environment that will make people eat.
A trial of IndigoSlim has recently finished and the feedback and results have been very encouraging.
Jenni Donno, a fully trained and registered hypnotherapist said: "We invited six ladies, of varying ages and lifestyles to participate in an eight-week trial of IndigoSlim.
"For an hour each week we concentrated on a different way to managee feelings about food, using a mix of hypnotherapy and counselling techniques.
"Our aim was to help our participants to 'reprogramme' themselves, to understand their behaviour, why they do what they do, and show them how they can change bad eating habits and responses.
"If you think back to childhood, if you fell over and hurt yourself quite often you were given food as a way to cheer you up - a well-meaning action became an automatic programme in the mind.
"We associate hurt, emotional or physical, with automatically wanting to eat to cheer ourselves up. This is just one simple example. There are many other automatic programmes running which cause us to eat when we aren't hungry."
The comments received from the participants on IndigoSlim illustrate how effective the course was, not just for changing attitudes to food but also for improving self-esteem and helping with stress management.
Busy working mother of four, Natalie, said: "The IndigoSlim sessions were an amazing experience in learning how to relax and take time out for myself. Each time I left the session I had learnt something new and felt very positive about myself."
Seventy-year-old Rita found all the sessions enjoyable. "IndigoSlim made me feel much better about myself, the programme was very thought provoking and I found it really helpful," she said.
The final word goes to Debbie Allard, a fully trained and registered hypnotherapist, bereavement support volunteer for West Suffolk CRUSE Bereavement Care and a relief support worker with Royal Mencap.
"For many people the image of hypnotherapy is tarnished by TV hypnotists carrying out high profile stunts. In reality hypnotherapy is a powerful and natural technique that can be used by ordinary people to take control of their lives and improve their wellbeing.
"The hypnotherapy sessions of IndigoSlim were enjoyed by all the participants – they could not believe how relaxing the experience was."
The next IndigoSlim courses start on Thursday February 3, at the Indigo Hypnotherapy and Counselling clinic above the Gallery in Lower Downs Slade.
There will be a daytime course running from 1pm-2pm and an evening course from 7.30pm-8.30pm. If people book by January 7 they can take advantage of a discount of £40 off the usual price of £240 and a free copy of the Food Doctor Everyday Diet, one of a series of books on healthy weight loss by author Ian Marber.
If you would like to find out more about IndigoSlim please call Jenni on 07525 626265.

Comment on this story
[board listing] [login] [register]
You must be logged in to post messages. (login now)