Skills challenge builds golfers of the future
Tuesday, 15th June 2010.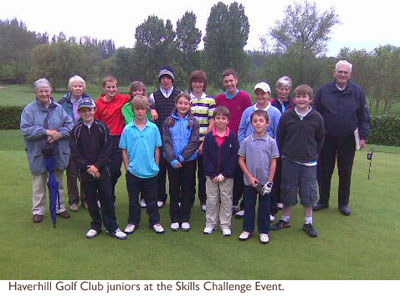 Haverhill Golf Club's Junior Skills Challenge was held at the beginning of June and well supported by the junior section.
Head professional Paul Wilby commented: "It's fantastic to see our juniors progress, as these skills are transferred to the golf course. As a result, many of them have had their handicaps reduced significantly."
He thanked all the parents and volunteers for helping to run the event and congratulated those taking part. The winners were: 0-12 section, Chris Vince; 13-24 section, Michael Perrett; 25-36 section, James Higham; and for the non-handicap section, Joshua Hulyer.
Haverhill are through to the semi-finals of the Suffolk Junior Team Handicap Cup after a comprehensive victory at home against Bury St Edmunds on Saturday, June 12.
The results were (Haverhill players first): Richard Boyles won 2 & 1 against J Nicholson, Mike Perrett won 7 & 5 against M O'Keefe, Charlie Sigler lost 3 & 2 against D Smailey, Liam Merritt won 1 up against O Smith, Lewis Whiting won 1 up against H Turner and Mitchell Davis won 1 up against D Warren.
The men's midweek medal played on June 9 was won by Paul Houchen, who also shot the lowest gross score and he has subsequently had his handicap reduced by 1 shot.
The full results were: Division One, 1 Paul Houchen 71-6-65; 2 Michael Warren 75-8-67; 3 Edward Fairhead 79-12-67.
Division Two, 1 James Bowser 86-18-68; 2 Kim Ward 82-13-69; 3 Trevor Broomfield 89-19-70.
Division Three, 1 Ken Johnson 96-27-69; 2 John Ward 91-22-69; 3 Duncan Watson 96-26-70.
The seniors' away match against Towerlands was played on Friday, June 11. It was another successful day for Haverhill, winning 4˝-3˝.
Haverhill Golf Club's 'Midsummer Madness' competition was played at 5.30am on Saturday, June 12!
The event was very well supported this year with 76 early bird golfers taking part, playing in a team stableford format, with three scores to count.
Winning with an incredible score of 131 pts were Charlie Hudson, Russell Gritty, Del Thomas and Trevor Broomfield. In second place with 126 pts were Paul Donno, Keith Donno, Ellis Woko and Roger Hartley. In third place with 122 pts were David Roope, Andy Softley, Tim Daniels and Geoff Bush. The golf was followed by a full English breakfast and prize-giving!
On Sunday, June 13, the men's June medal and third leg of the Cecil Darken Cup was played. Colin Rudge was the winner of the medal, carding a very impressive nett 62, with Peter McLennan just one shot behind with a nett 63. Both players have had their handicaps reduced by two shots.
The full results were: Division One, 1 Mark Stanton 77-12-65; 2 Lee Chandler 73-7-66; 3 Alastair Cocks 79-12-67.
Division Two, 1 Colin Rudge 79-17-62; 2 Peter McLennan 76-13-63; 3 ace Andy Softley 78-13-65.
Division Three, 1 Andrew Martin 91-21-70; 2 Peter Knight 91-21-70; 3 Mark Wray 94-24-70.
Andy Softley was the overall winner of the Cecil Darken Cup, played over three legs, the best two medal scores to count, with 70 + 65 = 135, from second place Alastair Cocks 71 + 67 = 138 and third place Russell Gritty 73 + 66 = 139.

Comment on this story
[board listing] [login] [register]
You must be logged in to post messages. (login now)