Speed Deer-Dating at Mountfitchet Castle
Sunday, 12th October 2008.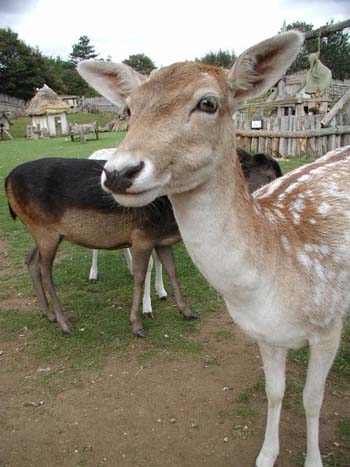 During the 'Rutting' season (mating season), which is due to start any day and lasts for about three weeks every autumn, the wild young stags that live in the surrounding countryside frantically begin their search for their true love.
Staff at Mountfitchet Castle in Stansted, Essex have decided to help the Stags and their three lovely maiden Fallow deer Holly, Lupin and Bluebell, who live within the Castle walls, to meet their perfect dates by building a deer ramp. This is a wooden ramp that will slope gently enough to allow roaming wild stags to walk up and jump safely over the Castle's ten foot walls to gain entry into the complex and meet the girls of their dreams. Castle staff hope, that these unions will result in a happy event next spring for their girls.
For details on when to visit Mountfitchet Castle contact: Alan Goldsmith 01279 813237

Comment on this story
[board listing] [login] [register]
You must be logged in to post messages. (login now)