Speeding Motorists Face New Crackdown
Thursday, 6th October 2005.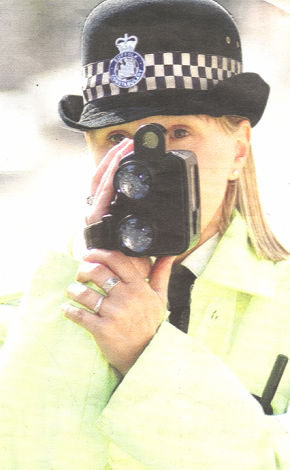 New hand-held laser guns will help in the fight against vehicles which speed through villages.
Suffolk County Council has bought 20 hand-held laser speed camera guns for community police officers.
About 100 officers have been trained across the country to use the guns and they will spend up to two hours a week in their parishes carrying out enforcement where local people have raised concerns about poor driving.
Guy McGregor, county council portfolio holder for roads and transport, presented the cameras to Inspector Joy Mayhew from the Bury St Edmunds road policing unit.
Councillor McGregor said: "The county council is committed to reducing the number of people killed or injured on our roads.
"Reducing the speed of vehicles through our villages will have a huge impact on accident reduction and I am confident that this initiative will make a real difference.
"In our election campaign earlier this year speeding traffic was one of the major causes of concern. This is our attempt to address these concerns."
Previously there were three mobile cameras in Suffolk in addition to the fixed camera sites.

Comment on this story
[board listing] [login] [register]
You must be logged in to post messages. (login now)