Stadium owners issue internet warning following website hi-jacking
Thursday, 9th October 2008.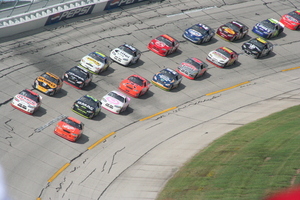 The owners of Mildenhall Stadium in Suffolk have issued a warning to internet users to beware after discovering their official website had been hi-jacked.
Dave and Ron Coventry, who bought the stadium in June, were shocked when they discovered that instead of finding the latest news and upcoming events at the raceway's website visitors were redirected to another site.
Furthermore, once on this website it became difficult to get it off screen again as every time you try to shut the page down it repeatedly pops up. This prompted fears that visitors could run the risk of catching internet viruses if their computers were not protected.
Now Dave and Ron Coventry are urging anyone who is seeking more information about events at the stadium to visit their new website which can be found at www.rdcpromotions.cjb.net until a solution can be found for the mildenhallstadium.com site.
Dave Coventry said: "It was certainly a very nasty surprise and shock when we found out what had happened to the official stadium website.
"We have no idea who is behind this or what their intentions are but obviously we feel it is very harmful to the reputation of the stadium which is very much geared towards a family environment.
"In the meantime we urge everyone to visit our new site which can be found at www.rdcpromotions.cjb.net and then clicking on Mildenhall Stadium which carries a full stadium calendar as well as news and full details on all the events which take place there.
"It is especially frustrating for us as the majority of our advertising features the mildenhallstadium.com address and we have recently had several staff vehicles sign written with this website as well.
"We are also thankful to all the radio stations and newspapers who have been very understanding with regard to the situation and have helped change our adverts as quickly as possible. We are very grateful for all their help."
Mildenhall Stadium promotes greyhound racing every Tuesday and Friday throughout October and every Friday and Saturday and every other Tuesday in November and December and stages regular stockcar and banger racing and speedway racing.
For more information on all the events at Mildenhall Stadium please log on at www.rdcpromotions.cjb.net and click on Mildenhall Stadium.

Comment on this story
[board listing] [login] [register]
You must be logged in to post messages. (login now)