Storms Damage New Hotel
Saturday, 30th December 2006.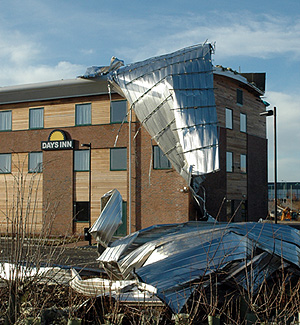 Damage to roof on Days Inn Hotel
Storms ripped off part of the roof at the newly-opened Days Inn hotel on Saturday night.
Hotel manager Donna Revell said they had been looking through a window when the storm struck but no-one was hurt.
"We saw the storm come across the back of the building and it tore through the place and the roof came off," she said.
The hotel is on a business park and an adjacent restaurant was closed because of the storm.
Eyewitnesses said heavy rain and hail hit the area as well as driving winds and a one-mile cordon was set up around the business park.
Firefighters said they were alerted to a number of reports of minor damage as the storms battered many parts of East Anglia on Saturday night.
Police reported no serious incidents and there were no reports of injuries but the heaviest damage was seen on the Suffolk/Essex border.
CLICK HERE
to see more pictures ...

Comment on this story
[board listing] [login] [register]
You must be logged in to post messages. (login now)