Students get fired up for self-employment
Thursday, 11th February 2010.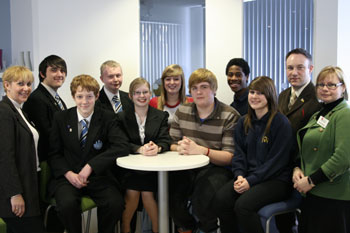 Business advisors yersterday told members of Haverhill Young Chamber of Commerce how they could become the next Alan Sugar.
MENTA, which provides advice to new and established businesses in Suffolk talked to the youngsyers at Castle Manor Business Centre.
It was the first meeting of Young Chamber members from both Castle Manor Business and Enterprise College and Samuel Ward Arts and Technology College.
MENTA has recently been given funding of £100,000 from the European Social Fund (ESF) and the East of England Development Agency (EEDA) for an 18-month project to help Haverhill residents, including school leavers, develop an entrepreneurial approach to improving their economic lives, by helping them to think about starting a business and take control of their future.
The work is part of the national Enterprise Coaching scheme and is tailored to support those who would not normally be able or inclined to access mainstream business start-up support, and are currently not working.
Project Manager Rosanne Kilbourn spoke to the students about MENTA and the support it can offer them to start up their own business.
She said: "Students, when they reach the age of 16, often feel they have two choices - to continue with further education or find a job. But there is another alternative.
"If they have a good business idea, passion and commitment they could become self-employed and start a business. With the right support, advice and training they could start their own business.
"Most people do not realise just how many skills they already have, and how valuable they could be – we hope to give some of them a chance to find out."
Matt Bryant, Castle Manor's business and enterprise specialist status co-ordinator, said: "Our outstanding curriculum develops much of the knowledge, skills and attributes that are needed by our students in their life after education.
"A large part of making the curriculum outstanding is to invite a variety of groups, such as MENTA, to come in and reinforce what my colleagues and I have been teaching them. I am sure our students will benefit from the session and will make use of the services offered by MENTA in the future."
For more information on the free advice and courses available through the Enterprising Communities Project for people living in Haverhill and thinking of starting their own business visit www.menta.org.uk/enterprisingcommunities
* Our picture shows members of the Haverhill Young Chamber of Commerce with Rosanne Kilbourn and Chrissy Proctor from MENTA and Matt Bryant from Castle Manor.

Comment on this story
[board listing] [login] [register]
You must be logged in to post messages. (login now)