Suffolk Business Month launched at conference
Wednesday, 12th September 2012.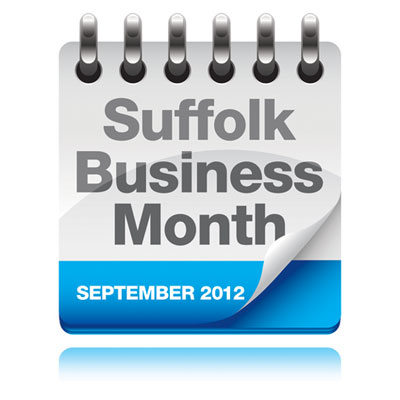 PLANS to create new businesses and revitalise industrial estates in rural Suffolk have been thrown a funding lifeline, business leaders at a conference to launch Suffolk Business Month were told today.
The New Anglia Local Enterprise Partnership (LEP), which in 2011 requested £2.6 million from the Government as part of its Rural Growth Network programme, learnt this year that the bid had been unsuccessful.
The plan was to establish 14 local hubs to stimulate the growth of existing businesses and the start-up of new enterprises in rural communities.
But now, the LEP has announced it will use £1.1 million from another pot of money, known as the 'Growing Places Fund', to establish seven or eight hubs and support them over two years.
Under the initiative, a number of 'enterprise champions' will be recruited to help people who want to set up in business - and support existing businesses to grow.
Andy Wood, chair of the New Anglia Local Enterprise Partnership, said: "Whilst we were of course disappointed that our funding bid was unsuccessful, we remain totally committed to the Rural Growth Network concept because it's so important.
"That's why the New Anglia board has earmarked funding for the project. We want to increase the rate of business start up in rural areas and, ultimately, help businesses to grow."
Business start-up rates in Suffolk and Norfolk are low compared with national averages, and this is particularly bad in rural areas. This is usually because access to business support services is more limited.
In order to take the project forward, more detailed work is required. In particular, there is a need to identify the locations of the hubs and local authority partners, including any additional funding.
Suffolk Business Month, a campaign led by the county council to promote Suffolk as a place to invest and expand businesses, is backed by Haverhill's MP Matthew Hancock, who became minister for business and education in last week's Government reshuffle.
The first ever Suffolk Business Month is an opportunity to hold up key examples such as OrbisEnergy, Aspall, Adnams and the ports of Felixstowe and Ipswich as proof of the international business success that can be achieved in the county.
Suffolk County Council has already received over 1,000 emails and calls from people asking about the campaign.
It's also a chance for business leaders to learn more about what is being done to make Suffolk a more business-friendly environment.
Work to address local skills shortages in some sectors, improve the employability of young people and create a broadband network fit for the twenty first century are all major reasons for businesses, large or small, to think about Suffolk when they are looking to set up or expand.
Other events being held across the county include:
* A conference promoting opportunities to trade with China (in Bury St Edmunds);
* A seminar on how to access business finance (in Lowestoft);
* A small business trade fair (in Stoke by Nayland);
* A conference on the tourism industry in Suffolk (in Ipswich);
* A meeting on how businesses can become part of the energy industry supply chain (at Hintlesham Hall);
* The Ipswich Star Beacon Ipswich Conference (in Ipswich).
Full details of all the events and how to book, as well as the Suffolk Business Month showcase companies, can be found on Suffolk County Council's website: www.suffolk.gov.uk

Comment on this story
[board listing] [login] [register]
You must be logged in to post messages. (login now)