Suffolk County Council in Vote to Close Schools
Saturday, 24th March 2007.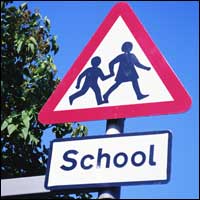 Suffolk County Council has voted in favour of moving to a stage two review of school organisation in Suffolk, with a preferred option of an all two-tier school system.
More than 10,000 people had signed a petition asking councillors to vote against the recommendation claiming it will disrupt youngsters education. But 42 councillors voted in favour of closing the middle schools while 28 voted against the move.
Protesters gathered outside the county council headquarters in Ipswich to lobby councillors as they headed to the meeting yesterday afternoon.
The decision was made following intense debate about the proposals for change at the full Council meeting in Endeavour House.
Councillor Patricia O'Brien, portfolio holder for Children, Schools and Young People's Services, said: "I understand that people may have concerns about how change may be implemented. But I must reassure everyone that we will manage the process carefully to protect the well-being of every child in the school system.
"We will also make sure that all schools in the three tier system, wherever they are in the phased implementation plans, will have the support they need to continue to provide a high quality education. This includes making arrangements to retain and develop our talented school staff.
"Reviewing the way our schools are organised has been passionately discussed across the whole county. It reflects the desire of everyone to provide our children and young people with the best possible start in life. We must harness these passions now to make change work."
Councillor Jeremy Pembroke, Leader of Suffolk County Council, said: "Every child matters in Suffolk. That is why we had to act now. Today's decision was a brave decision, a tough decision and above all the right decision."
If people have any further questions about the School Organisation Review, they can visit www.suffolk.gov.uk/sor or email sor@cyp.suffolkcc.gov.uk or call 08456 031842.
E-Mail Link: sor@cyp.suffolkcc.gov.uk


Comment on this story
[board listing] [login] [register]
You must be logged in to post messages. (login now)