Suffolk County Council Praises GCSE Results
Thursday, 21st August 2008.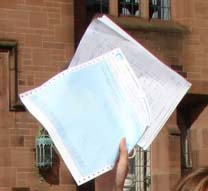 Exam successes in Suffolk drew praise from the county council today after students received their GCSE results.
Patricia O'Brien, Portfolio holder for Children, Schools and Young People's Services, said: "Students across Suffolk deserve to be congratulated today for their GCSE and vocational exam results. Particularly pleasing is seeing the efforts and achievements of all students being celebrated, from those who have recorded a run of A and A* grades to those who have done their very best. The students have worked hard for these exams, as have their teachers. This, combined with the support of families and friends, seems to be a significant factor in achieving success."
Suffolk Youth and Connexions has teamed up with local radio stations across the county to promote the help, advice and guidance it offers to young people to make best use of their results. Young people and their parents and carers can also log onto the Youth and Connexions website - www.thesource.me.uk or phone their freephone number - 0800 085 4448.
So if students are concerned about their results or are not sure what to do next, there is support for them in Suffolk.

Comment on this story
[board listing] [login] [register]
You must be logged in to post messages. (login now)