Suffolk MPs get on the Government's case
Thursday, 10th June 2010.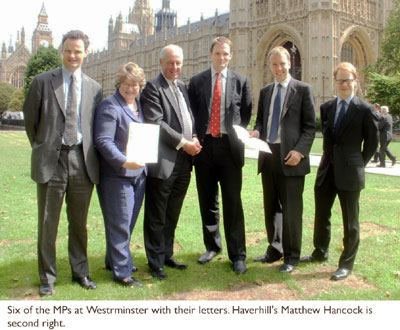 The seven Suffolk MPs have joined together to sign letters to the new secretaries of state for health and for culture, Olympics, media and sport.
Haverhill's MP Matthew Hancock, along with Tim Yeo (South Suffolk), David Ruffley (Bury St Edmunds and the MPs for Ipswich, Suffolk Coastal, Waveney and Central Suffolk, is asking for attention to be given to two county priorities.
The first, raised with Andrew Lansley, the health secretary, is aimed at getting both Suffolk Primary Care Trust (PCT), and also Great Yarmouth and Waveney PCT the money that they deserve.
Until now it had been the case that, even under the previous Government's funding formula, which was thought to be unfair by many, both PCTs were receiving more than £10 million less than they were due.
The second issue, raised with culture secretary Jeremy Hunt, concerns broadband access across the county.
The MPs are pushing to ensure that the many rural areas of Suffolk which experience slow, or non-existent, broadband Internet connections are not left behind when faster broadband speeds are rolled out.
These poorly-served areas often impact on businesses which means that Suffolk runs the risk of being left behind, the MPs say.

Comment on this story
[board listing] [login] [register]
You must be logged in to post messages. (login now)