Suffolk's top council officer to address Haverhill's 'hot potatoes'
Monday, 11th February 2013.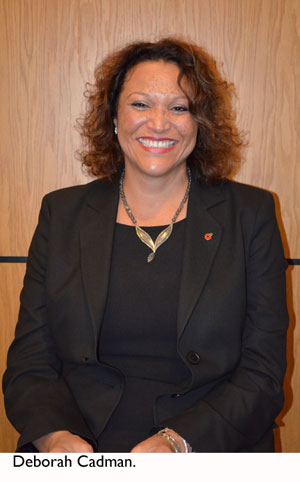 Growth in Suffolk, school performance, pedestrianisation and transport will be on the agenda for the next bestof Haverhill event.
Thebestof Haverhill holds its monthly business meeting on Thursday, February 21, at the Days Inn hotel, from 10am to 11.30am.
Continuing with the regular theme of Wanting The Best For Haverhill, the guest speaker this month is Deborah Cadman, chief executive of Suffolk County Council.
Deborah is no stranger to Haverhill having worked in some of the leading organisations in the county for many years.
She was the chief executive of St Edmundsbury Borough Council for six years before joining the East of England Development Agency (EEDA) as chief executive in 2008.
It was in that capacity that Deborah spoke at a bestof Haverhill event in November 2010. Her appointment to the top role within Suffolk County Council came in October 2011.
Deborah will address some of the 'hot topics' in the county including the recent report on school performance in Suffolk; the ongoing debate on pedestrianisation in Haverhill and the need for improved transport links.
Deborah will also talk about growth in Suffolk, the strategy for Suffolk that is being worked on in conjunction with the other borough and district councils.
The aim of the strategy is to deliver economic growth, create more jobs and increase prosperity.
Elaine Carr, owner of thebestofhaverhill, said: "It's a pleasure to be welcoming Deborah back to thebestof Haverhill. The difficult economic climate is causing many business owners to focus purely on the micro-management of their businesses.
"It is good to have an opportunity to find out more about what is happening at a macro level within the environment that we're trading in, as this will obviously have an effect on our businesses in the medium and long term.
"Deborah is an excellent speaker and in the past has been a great advocate for Haverhill. I hope we will have good support for the event from local businesses and organisations.
"This is a great opportunity to hear first-hand about where Haverhill features in Suffolk County Council's plans for the future."
If you would like to attend this free event, call Elaine Carr on 01440 710 158 or email Haverhill@thebestof.co.uk by Tuesday, February 19. The event is open to any local organisations - you do not have to be a member of the bestofhaverhill to attend.

Comment on this story
[board listing] [login] [register]
You must be logged in to post messages. (login now)