Super slimmer sheds 11 stones
By John Dowing on Thursday, 17th January 2002.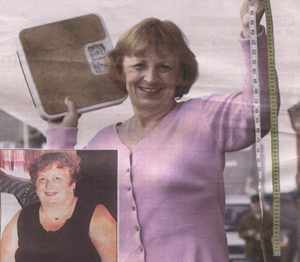 Maureen Smith may be less than half the woman she once was but she has never felt better in her life.
Pint-sized Maureen stands just five feet tall but her gritty determination to lose weight saw her shed an amazing 11st 2lbs.
Once more than 21 stones, she now tips the scales at 10st 7lbs meeting her target just before Christmas – but she insists she is Mrs Average.
The 48-year-old grandmother who works in Haverhill has made the 90-minute round trip to attend Slimming World classes in Mildenhall each week for the past three years in her quest to lose the pounds.
She said: "I had tried everything – fancy fad diets, crash diets but nothing worked.
"Clothes shopping was a nightmare. I had to take what fitted, not what I wanted.
"Then I went to Donna Cooper's class with my daughter. They and the whole class were so supportive. It was a slow process but it defiantly paid off.
"Now I can go into any shop and buy and wear anything I want. Life is so different now. But I'll keep going to Mildenhall to support the others."
She works as a receptionist for chartered accountants Ensors, in Hamlet Road, and lives with husband Ray in Glemsford.
Slimming had helped her combat health problems that had her fearing she would not see her grandchildren grow up. Now the woman who once had trouble climbing the stairs is out and about on her bike whenever she can.
Ray and daughters Kirsty and Kim have backed Maureen all the way but she sees nothing remarkable about her feat.
A modest Maureen said: "at the rate I lost weight over the three years, I'm Mrs Average.
"I've got a new way of life but I can eat what I want, still enjoy Christmas, and holidays and the odd gin and tonic."
She may well be raising a glass when she and Ray celebrate their 30th wedding anniversary in March. She said: "He thinks he's got a new wife."

Comment on this story
[board listing] [login] [register]
You must be logged in to post messages. (login now)