Syd win sees his handicap trimmed.
Tuesday, 24th May 2011.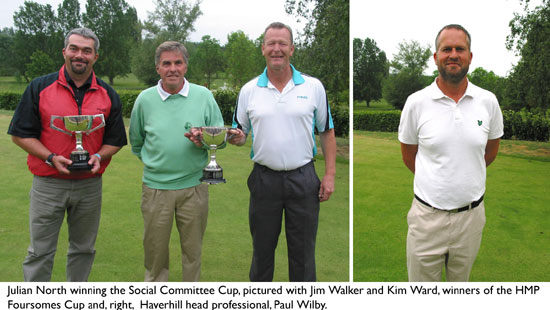 The Men's May Stableford was played at Haverhill Golf Club on Thursday, May 19. Winning overall with an incredible 45pts was Syd Gould, who has subsequently had his handicap trimmed by two shots to 17.
The full results were: Division One, 1 Haverhill junior Liam Merritt 38pts; 2 Harvey Bavester 37pts on countback from 3 Andy Fish with 37pts.
Division Two, 1 Syd Gould 45pts; 2 Lyndon Brown 39pts; 3 Mark Wells 37pts.
Division Three, 1 Derek Olive 43pts; 2 Allen O'Donoghue 39pts; 3 Peter Grant 38pts.
Haverhill Ladies played in a friendly match at home against Bourn on the same day. The results were (Haverhill team first): lady captain Marian Mercer & Marion Kendall lost 6&4 against Wendy Ward & Matilde Dempsey. Doreen Darbey & Jo Stokes lost 1 down against Irene Heyman and Mary MacDonald. Sally Price & Judy Farren won 1up against Linda Brown and Mel Owers and Gerry Wheatley & Val Shipp won on the 18th against Barbara King & June Smith. Overall the match was halved.
The next major in Haverhill's calendar was a mixed stableford event, the Social Committee Cup, which was played on Saturday, May 21. The trophy was won by Julian North with 43pts and he has had his handicap of 13 reduced by two shots to 11. In second place was Andy Bareham playing off a handicap of three with 40pts and in third place Bryan Graham playing off a handicap of 17 with 39pts.
The Ladies Stableford was run in conjunction with the Social Committee cup, and the result was: 1 Geraldine Wheatley 38pts on countback, 2 Jacqueline Condon 38pts (both ladies have had their handicaps reduced by one shot) and 3 Mary Sail 33pts.
On Sunday, May 22, the first round of the Tolly was played away at Beccles. On a very different course set-up to Haverhill, the hosts made the most of the home advantage and by lunchtime Haverhill were 11 down.
During the afternoon matches, Haverhill managed to limit the damage to finish two down, to give an overall loss by 13 holes. Although Haverhill lost the match, they enjoyed the hospitality at Beccles, who now go onto play against Aldeburgh in the next round.
Haverhill received a bye in the first round of the Hambro and have been drawn at home against Bungay in the second round, which will be played on Sunday, June 26.
Haverhill senior professonal Paul Wilby has recorded his best result in the first East Region Order of Merit 2011 event since he turned professional in 1990.
The first of six Order of Merit events was played on Tuesday and Wednesday, May 17 and 18, at Woolston Manor Golf Club, near Epping, with a strong field of 106 PGA Professionals taking part.
The venue required good course management and patience. On day one, Wilby scored a level par 72 and was lying in 31st place.
He then fired a best of the day 69 (three under par) on day two, in extremely windy conditions to move up to third place with Darren Charlton and Danny Poulter (Ian Poulter's brother).
Wilby said: "I am extremely pleased with my start to the Order of Merit season and I am now looking forward to the next event in June. With limited time to practice, playing is not my priority these days, but I still love to be competitive".
Wilby won the Suffolk Open back in 1997, but had his career-best finish on the Futures Tour (now Euro-Pro Tour) also in 1997, when he won at Royal Norwich with a two-round total of six under par.
The next Order of Merit is at Bishops Stortford Golf Club on June 8 & 9. Sky TV will be showing a one-hour feature of this event in the near future, but a date has not yet been released.
Result:
1 Sean Whiffin 5 under par (Hertfordshire Golf & Country Club);
2 Brett Taylor 4 under par (Chelmsford Golf Club);
3 Paul Wilby (Haverhill Golf Club), Darren Charlton (Dunstable Downs), Danny Poulter (Bedford) all 3 under par.

Comment on this story
[board listing] [login] [register]
You must be logged in to post messages. (login now)