Talk will highlight funding sources for small businesses
Friday, 8th June 2012.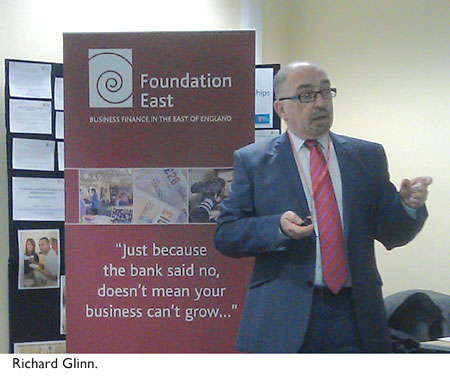 An expert in how to access funding for small businesses will be talking to town business people at a free event later this month.
The bestofhaverhill will hold its next business meeting on Thursday, June 21, at The Days Inn, Haverhill, from 10am to 11.30am.
This month the guest speaker is Richard Glinn, marketing and membership manager at Foundation East.
Richard will explain how Foundation East provides alternative funding strategies for small businesses that may have been turned down for bank lending for a variety of reasons.
Founded in 2004, Foundation East, a community finance organisation, offers loans to viable existing and start-up businesses across the East of England.
Elaine Carr, owner of thebestofhaverhill, said: "Access to funding continues to be a hot topic. The last quarterly report issued by the Bank of England highlighted that almost £100billion of lending had been taken out of the economy over the last three-and-a-half years.
"The Government has stated that small businesses are the growth engine of the economy but I'm sure we are all aware of businesses whose growth is being stifled because they cannot access the funds they require.
"Organisations like Foundation East offer a lifeline to these companies; they recognise that business is about people as well as numbers. I am looking forward to hearing what assistance Foundation East has to offer companies in Haverhill."
If you would like to attend this free event at The Days Inn Haverhill please call Elaine Carr on 01440 710 158 or email Haverhill@thebestof.co.uk by Tuesday, June 19.

Comment on this story
[board listing] [login] [register]
You must be logged in to post messages. (login now)