Teacher's New Life Was Well Worth The Weight!
By Jo Deeks on Friday, 7th July 2006.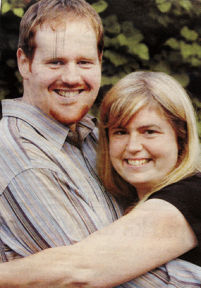 Gil Matthews is celebrating the best year of his life after losing more than 10 stones in weight and gaining a fiancee.
The music teacher's weight had topped 25 stone before he joined the Haverhill Slimming World Club 18 months ago and since then he has lost a total of 10 stone 2 pounds.
The 35-year-old says he feels like a different person and certainly looks like one, with many people failing to recognise him.
Two weeks ago Gil became engaged to Jenny Leach from Cherry Hinton, who he met through the Connections page in the Haverhill Weekly News. They plan to marry next summer.
Gil, of Osier Place, Haverhill, said: "This really has been the best year of my life after losing all the weight, and finding love. I really do feel like a totally different person.
"I didn't think my weight was anything like what it was and I decided it was time to do something about it.
"I had tried dieting before, but this is more of an eating plan and a lifestyle change for the rest of your life.
"I had worked in childcare, so I was used to being with more women than men, but it is more of a macho thing with men - that we don't like admitting we have a problem and need help.
"The hardest thing was walking into the meeting for the first time, but after that the support I have had has been unbelievable. Without it I could not have done it.
"I like to play football and I was having trouble with my joints and getting out of breath.
"My mother had to have triple bypass surgery and I did not want to be carrying problems into my 30s and 40s.
"There are quite a few people who I see every week who don't recognise me."
Gil is also celebrating being chosen as one of 12 finalists from 10,000 entries in the Slimming World Man of the Year competition, which was held in Derby on Sunday.

Comment on this story
[board listing] [login] [register]
You must be logged in to post messages. (login now)