Teenagers cloud nine dream
By Martin Chapman on Monday, 20th May 2002.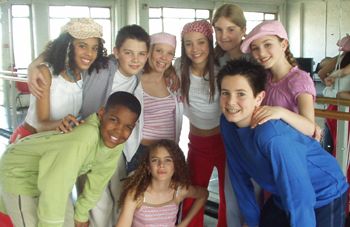 Nikki, back row second from right with the S Club Juniors.
A Haverhill youngster won a once-in-a-lifetime opportunity to dance with the S Club Juniors and appear on national television after winning a competition on the children's TV programme Diggit.
Nikki Mayes, 13 drawing of herself dancing on a beach was judged to be the "best by far" out of over 700 entries.
The teenager was said to be extremely excited when she heard she had won the competition and the chance to meet the group.
Her mum had already heard on Thursday that she had won the competition so that they could prepare for the big day but when a friend of Nikki's rang saying she though Nikki had won her mum had to keep quiet.
Nikki was taken to meet the group at the Rambert Dance Company's studios in West London. Here she was taught by the groups choreographer the chorus of their hit debut single "One Step Closer" which reached number two in the charts.
Speaking to Haverhill News On-Line Nikki said: "It was brilliant dancing with S Club Juniors and I really enjoyed it."
Nikki's mum said the Diggit crew were fantastic making sure Nikki loved every minute of the day.
She also received lots of presents including signed gifts, CD's and photos as well as a signed blazer to make her the envy of all her friends.
CAPTION: Nikki, back row second from right with the S Club Juniors.

Comment on this story
[board listing] [login] [register]
You must be logged in to post messages. (login now)