Tesco superstore finally open
Monday, 28th September 2009.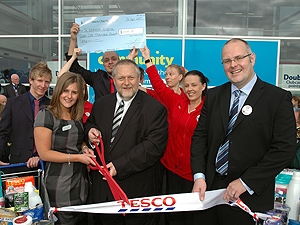 Twenty years of rumour and ten years of planning came to a climax this morning (Monday) with the opening of a Tesco superstore in Haverhill.
Despite a grey, low-key start when the store opened its doors at 8am to a queue of around thirty eager shoppers, Tesco proved they can even order the weather when the sun appeared to greet the official opening at 10am.
Members of Haverhill Silver Band opened proceedings with a fanfare before representatives of St Nicholas Hospice in Bury St Edmunds, the charity recipients chosen by Haverhill Echo readers for a £1,000 celebratory donation, performed the opening.
A large number of community representatives gathered to watch the event and to listen to the band playing a programme of music afterwards.
They also had the first opportunity to see the new view of Haverhill visible from the raised terrace outside the store, or the even more impressive view to be seen from the cafe on top of the store's tower.
The store will be open from 7am to 11pm Monday to Friday, 7am-10pm Saturdays and 10am to 4pm on Sundays.
* Our picture shows Abby Hunt and Ian Norris from St Nicholas Hospice and new Tesco store manager Adrian Jones performing the opening. (Photo: Steve Bryant)
The opening represents the end of a long and difficult process to establish where Tesco would be allowed to build the store and, once the site had been identified, how it would fit onto it and how it would integrate into the surrounding infrastructure.
Negotiations over the current site began in 1999. Part of it was the derelict former railway station site bought by St Edmundsbury Council from British Rail at an auction in the early 1980s.
The council tried to market the site for a variety of purposes without success until it was identified as suitable for the Tesco store, when taken together with the neighbouring council depot site, which forms much of the new store's extensive car park.
The old Rank Hovis mill building was demolished and The Pightle closed off to make way for the access to the store, diverting the main road to a roundabout further up Wratting Road.
The whole building and engineering process has taken some 15 months, and includes a smart new pedestrian access into Queen Street, which planners hope will attract Tesco shoppers to explore the town centre as well.

Comment on this story
[board listing] [login] [register]
You must be logged in to post messages. (login now)