The Good, the Bad and the Ugly
By Jim Morgan at Castle Playing Fields on Tuesday, 12th February 2013.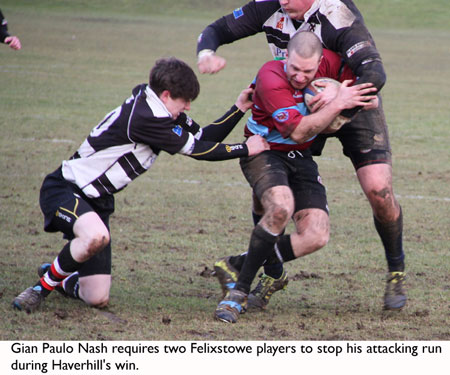 GREENE KING EASTERN COUNTIES RUGBY LEAGUE, DIVISION TWO: Haverhill 25 Felixstowe 16.Match report.
Haverhill showed all facets on Saturday with the good being a very poignant minutes silence for their recently departed stalwart, Ian Wade.
The bad was a penalty count that was unacceptable and would be punished by a better team and the ugly was an incident where a player received a red card for running on the pitch and getting involved when he should have stayed in the dugout.
Haverhill were all over Felixstowe like a rash and two Hunt penalties on ten and 20 minutes saw the score hit 6-0.
Playing on one of the smaller pitches due to first team posts being broken, the chance of expansive rugby was diminished, so when Haverhill tried to throw a clever pass inside their 22 metre line on 23 minutes, the interception was soon over the line and the score 6-7.
Haverhill were playing in the scrum half position the young, but remarkably mature James Craig. The smallest man on the pitch, he bullied his pack and the opposition scrum half like a veteran, although the pace started to tell in the last ten minutes.
It was his quick hands that set Simon Potter charging on 30 minutes and his perfectly timed pass allowed the storming skipper Hunt to smash his way through 30 metres of defence and over for 11-7, his conversion slipping past the wrong side of the post.
Haverhill's indiscipline led to another penalty and 11-10, but again nice hands from Craig released the ever-impressive Micky Lansdowne and a crash over for a try and Hunt conversion and 18-10 at the turn.
Ricky Brown came on for Harry Marsh at the break, his first outing since breaking his hand three months earlier. Haverhill continued to press, but gave away penalty after penalty.
When the opposition coach says: "Don't panic lads, they will give us the penalty in a bit", then you know there are issues.
On 55 minutes, a speculative Potter kick was chased by Lansdowne and he gathered and scored for Hunt to convert and Haverhill, at 25-10, looked like they were coasting to victory, but they tried hard to keep Felixstowe in the game.
Two further penalties in kickable positions took the score to 25-16. Marsh returned for Dan Bishop, but during an altercation, the latter returned to the field of play and got involved and was red carded, which will cause the club some problems.
The final whistle went and Haverhill secured the points, but had tried hard to give them away.

Comment on this story
[board listing] [login] [register]
You must be logged in to post messages. (login now)