The Hunt is on for Haverhill's Top Employer…
Tuesday, 4th January 2005.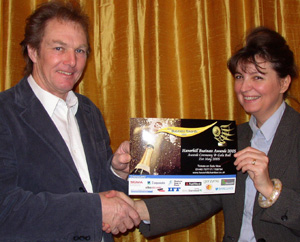 EMPLOYER OF THE YEAR 2005!
The Hunt is on for Haverhill's Top Employer…..
DOES YOUR COMPANY DESERVE TO WIN?
The Haverhill Chamber of Commerce & Industry are pleased to announce the sponsorship of this prestigious award by local independent, Neptune Spas and Pools.
Tony Dunmow of Neptune Spas & Pools, a company specialising in swimming pool construction in and around Suffolk, said "I am proud to be one of the sponsors of these inaugural Haverhill Business Awards and I genuinely believe the Awards are one of the many good things currently happening in the town. I chose 'Employer of the Year' to draw attention to organisations who work hard to recognise the contribution and value of their staff".
"I don't consider myself to be a great employer but I admire those that are. I do consider myself lucky though, because I know that without the team I have, I could not have constructed swimming pools that have attracted Gold standard Awards. I wholeheartedly appreciate the importance of motivating and retaining good people and am therefore, particularly pleased to be sponsoring an award that involves not just business leaders but their employees. Employer of the Year is a fantastic award to win and I think it's a super promotional tool for any organisation that cares about attracting the right people."
Paul Donno, chairman of the Haverhill Chamber said, "We are delighted this Award has been sponsored by a small company based in Stoke by Clare. This is the second small company to sponsor an Award, the first being Risk & Safety Solutions of Haverhill. The support of these two companies, both members of the Haverhill Chamber, indicates the attraction of the Business Awards for organisations of all varieties, shapes and sizes. Our sponsors range from BAA Stansted, Vibe FM, and Barclays Bank through to Haverhill's Genzyme, Risk and Safety Solutions and now Neptune Pools. What they all have in common is a belief and confidence in Haverhill as a centre of business excellence".
This award will be given to the employer, nominated by their employees, who exemplifies fairness, support, leadership and a commitment to the professional development of their staff. If you work for an organisation that deserves recognition, this is your chance to reward your employer. Entry is free, so there's no real reason not to put your company in the running for this prestigious award.
Contact Charmaine Symonds on 01440 707717
Haverhill Chamber membership details can be obtained from Jason Fitzpatrick on 01440 709794
Story by Elaine Collins - Gold PR

Comment on this story
[board listing] [login] [register]
You must be logged in to post messages. (login now)