The journey continues for rebuilding rugby club
By Jim Morgan at Castle Fields on Tuesday, 8th March 2011.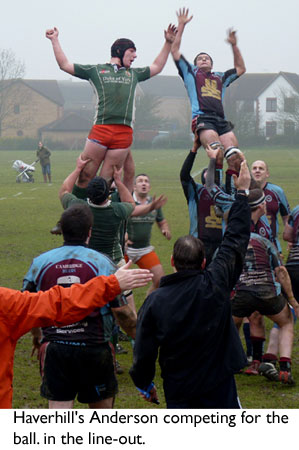 FRIENDLY: Haverhill 10 Saffron Walden 7. Match report.
On a dank and wet day, Haverhill entertained a team from Saffron Walden at the Castle Fields. With Haverhill lending two players to the visitors and the scrums being uncontested from the start, the game was never going to be out of the top drawer, but a game it was in Haverhill's rebuild of 'Team Haverhill Rugby'.
Kieran Ewens, playing at fly half was causing trouble for the Saffron Walden back line, creating big gaps, but sometimes not running for the gap which would have stretched the visitors greatly.
Haverhill attacked from the off and were rewarded with a penalty on ten minutes, but the Ewens kick failed to trouble the scorers.
With Chris Clayden making a welcome return to the Haverhill back line, the exciting centre's speed and dexterity was soon to be seen, but on too many occasions, handling in the line allowed the move to fail at the crucial moment.
For 30 minutes the ball was continually in the Saffron Walden half, but a wayward kick to the Walden full back allowed the player an 80-metre run deep into the Haverhill 22m, only being stopped by the ever-present Keiran McDonagh ten metres short of the line.
This seemed to give Walden the fillip they had been looking for and a sustained five minutes of pressure led to a converted try on 35 minutes.
With the seconds ticking down before a welcome cuppa at half-time, Haverhill were lucky not to concede another try when the Walden centre spilled the ball as he crossed the Haverhill line.
The second half was more of the same with Haverhill attacking from the off, continually failing to exact the killer blow leading to points.
After sustained pressure close to the line, with the likes of veterans Ransome and Anderson making inroads into the Walden defence, Chris Flannery crosses the line on 55 minutes, with Clayden adding the two extra points.
The play remained fairly encamped in the Walden half and, with two minutes to go, the crowd urged Haverhill to go for that one last push to penetrate the Walden line and steal a win.
Again, great ruck and maul drove the ball to the line, but a lovely move from Walden allowed the ball to be overturned.
The Walden number eight cleared the ball up field past halfway. With 30 seconds to go, the feeling was the draw was the result, but waiting to gather the cleared ball was McDonagh.
With the Saffron Walden team bearing down at speed, McDonagh took six steps forward and kicked a 45-metre drop goal, much to the consternation of the visiting side and the incredulity of the sizable crowd and home players, securing the win right on the final whistle.
Haverhill have another game next week at home to Braintree, kick off 3pm.

Comment on this story
[board listing] [login] [register]
You must be logged in to post messages. (login now)