Thieves Steal Man's Mobility Scooter
Friday, 11th November 2005.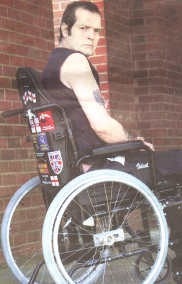 Heartless thieves stole a disabled man's mobility scooter from outside his home leaving him wihtout his only means of getting around.
Christopher Leopold, 50, has been permanently confined to a wheelchair for some time after a series of unsuccessful operations on his legs left him unable to walk. His wife Linda, 49, suffers from MS and is also wheelchair bound.
Mr Leopald had left his mobility scooter parked outside his home at Pentlow Hawke Close, Haverhill, last Friday as he has done regularly berore. THe next morning he discovered it had gone.
The scooter was found abandoned elsewhere in the town, but had been badly damaged and Mr Leopald said he could not afford the £2,000 to £3,000 needed to buy another one.
"I was shocked and astounded and pretty angry. I cannot walk at all and I use it to get into the town and back. I use a manual wheelchair around the house but I could not get it up the hill from the town. I will have to pay myself because it is malicious damage and the insurance only covers accidental damage." Mr Leopald said.
"I am very, very angry that they have done it. I cannot understand why anyone would do it, they must have known it is a mobility scooter and that people must really rely on it."
A spokesman for Suffolk police said: "It is a very despicable crime. These mindless criminals have immobilised Mr Leopald and their actions will not be tolerated. We will do everything within our powers to trace them and bring them to justice."
Anyone with any information about the theft should contact Pc Stephanie Roe on (01284) 774100
or Crimestoppers on 0800 555 111

Comment on this story
[board listing] [login] [register]
You must be logged in to post messages. (login now)