Time to show how much you love local businesses
Monday, 30th January 2012.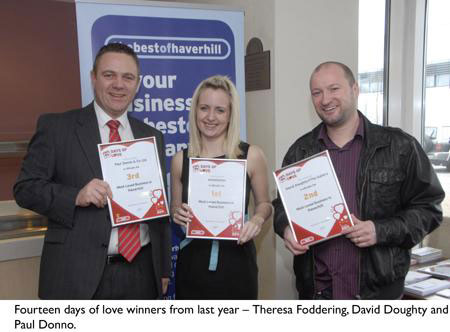 Valentine's Day is fast approaching and one local company is keen to encourage local people to show their love not only for each but for local businesses!
Elaine Carr, who runs local marketing company thebestofhaverhill, is showcasing the '14 Days of Love' Campaign which she hopes will both raise awareness about the continuing plight of local businesses and also prove that our community can make a real difference to Haverhill's economy and create a sense pride for our area.
Elaine said: "We are so passionate about this campaign because from our previous experience it has a massive impact for the local business community.
"It's up to us as local people to make a difference to the survival and ongoing development of Haverhill and the surrounding area and a great way of doing this is by showing some real 'love' for local businesses this February."
Local people can take part in the '14 Days of Love' by writing testimonials on the bestofhaverhill website in support of their favourite businesses in Haverhill and the surrounding area.
All testimonials posted from the March 1 2011 up until the February 14 2012 will be added to the website's Love-O-Meter, which will ultimately decide who the 'Most Loved' businesses are, both locally and nationally.
A prize draw is also being run by 'thebestof' for the duration of the campaign. The local people who post testimonials for local businesses will have the chance to win fantastic prizes including an Orient Express Experience, a Michelin star restaurant dinner for two and a Silverstone Ferrari driving experience.
The locals leaving the most testimonials for businesses in Haverhill will become the 'Best Lovers' in Haverhill!
The campaign also encourages people to post quirky videos about local businesses via the national bestof Facebook page, (www.facebook.com/thebestofuk).
Last year the 14 Days of Love was won by arevolution, the beauty sanctuary, who received 141 testimonials from their clients to become the 'Most loved business in Haverhill'.
It was the start of a very successful year for arevolution who also went on to scoop three awards in the Haverhill Chamber of Commerce Business Awards 2011.
Photographer David Doughty at The Gallery and accountants and business advisors Paul Donno & Co Ltd were in second and third place.
If would like to find about more about thebestofhaverhill or take part in the 14 days of love campaign visit www.thebestof.co.uk/haverhill.

Comment on this story
[board listing] [login] [register]
You must be logged in to post messages. (login now)