Toilets get top award
Thursday, 14th December 2000.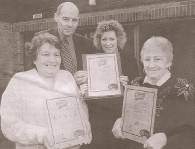 WHEN it comes to spending a penny, public toilets in Haverhill have been proven the best in a national award scheme.
The
Recreation Ground
toilets have been awarded the title of best local authority public conveniences in the country.
They also gained Five Star rating, along with the toilets at the Abbey Gardens in Bury St Edmunds.
Russell Hill, cemetery and cleaning manager for St Edmundsbury Borough Council, said they only entered four of their "away from home toilets" for the awards and won a prize for each.
Around 500 sites across the country are entered for the wards including shops, retail parks, airports and others.
"I am very pleased. I am pleased for the ladies who work down here as I have always said the Recreation Ground toilets are as good as the ones in the Abbey Gardens. We have always won something in these awards, but to take the top national award is great," Mr Hill said.
Gloria Lightfoot has been the supervisor in charge of the toilets since they were renovated about seven years ago and has worked for the council for 22 years, She is helped by Gill Lyle and Liz McCormack.
Mrs Lightfoot said: "We are very pleased to win the award. I hate to use dirty toilets myself so I like to keep them clean. I just like cleanliness and we take a lot of pride in our work."
CAPTION: Loo roll of honour … from left, Gloria Footlight, toilet supervisor, Russell Hill, cleaning manager, Gillian Lyle, attendant and Elizabeth McCormack, attendant show off their awards,

Comment on this story
[board listing] [login] [register]
You must be logged in to post messages. (login now)