Top Radio Station Sponsors Business Awards
By Elaine Collins on Saturday, 30th October 2004.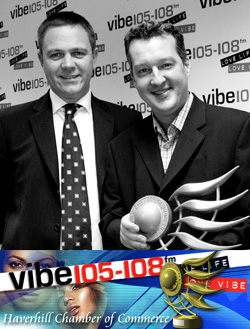 Vibe FM Demonstrates Commitment to Haverhill's Business Stars of the Future.
Top radio station, Vibe FM, has agreed to sponsor a category in the Haverhill Chamber Business Awards 2005. Vibe FM is the biggest radio station in the East of England, broadcasts from Bury St Edmunds, and reaches more 24-44 year olds within the Anglia TV region than any other commercial station.
Vibe has chosen to sponsor the 'Young Entrepreneur Award', which will be presented to a business person who is under the age of thirty-five (before December 31st 2004). It will be awarded to an individual who has demonstrated genuine flair, creativity, risk taking and business achievement, as well as excellence and personal commitment to both their business and community. The judges in this category, including a representative from Vibe, will be looking for young business people who can show innovation, ideas, originality and verve.
Gary Robinson, Managing Director of Vibe FM, said, "Sponsoring the Young Entrepreneur Award at the HCCI Business Awards is an ideal opportunity for Vibe FM. I am seriously impressed with the enthusiasm, passion and vitality of the Haverhill Chamber and this sponsorship will demonstrate our commitment to the business stars of the future."
As well as sponsoring the 'Young Entrepreneur Award', Vibe has also agreed to be a Media partner for the Business Awards. This is a unique step for the station and amounts to a substantial investment in the awards scheme and Haverhill, as well as the station's recognition and belief in the business excellence of the area.
Haverhill Chamber Membership Co-ordinator, Jason Fitzpatrick explained the significance of Vibe's sponsorship. "We have created a programme for the Haverhill Business Community that will have prestige, glamour and impact and we're thrilled that Vibe FM shares this vision. The involvement of Vibe, which broadcasts to the entire Anglian region, will encourage wider public recognition for the awards and will heighten Haverhill's visibility in East Anglia."
Vibe will join a growing number of organisations, which have been keen to support Haverhill's very first Business Awards. These include Carisbrooke Alliance, Barclay's Bank and Haverhill companies IFF, Risk and Safety Solutions, the Haverhill Weekly News and Printwise.
Calls for nomination and entry will commence from 1st November and the competition is open to any organisation, including schools, within a 10-mile radius of Haverhill. Further details can be obtained from www.haverhillchamber.co.uk
For sponsorship enquiries contact Charmaine on 01440 707717 and for membership enquiries contact Jason on 01440 709794.
Story by Gold PR
info@goldpr.co.uk
E-Mail Link: jason@haverhillchamber.co.uk


Comment on this story
[board listing] [login] [register]
You must be logged in to post messages. (login now)