Tough Guy Dave proves his mettle
Wednesday, 3rd February 2010.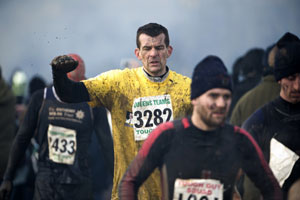 A Haverhill businessman who took on the Tough Guy challenge at the weekend admits to being completely shattered by the end of it.
Dave Allan, 37, sales and marketing director of Doxbond in Homefield Road, completed the 8.5-mile assault course to raise money for a charity chosen by the families of two football fan friends who were stabbed to death in Turkey.
Dave was with fellow Leeds United fans Chris Loftus and Kevin Speight when they were attacked on the eve of the UEFA cup semi-fibal against Galatasaray in April 2000.
Ten years on, around 40 Leeds fans agreed to take on the Tough Guy challenge in Wolverhampton on Saturday in memory of them and raise money fopr Candlelighters, a Leeds-based charity for children with cancer.
Dave had spent months getting fit for the day, but admitted it had been a test of character and an experience 'if not all good'.
"The event was really hard at the end," he said. "I enjoyed the training as I had not got fit and specifically trained for anything since school.
"My fitness levels were fine, but it was when we hit the freezing cold your mental strength is tested.
"The last quarter of the event in, out and underwater was savage. To be that cold and have to keep climbing up huge structures and back into water I found very intense. My head was completely gone for about an hour after."
He said the people of Haverhill had been some of the most generous.
"People at Wilburs gym have been very supportive," he said, "and many have sponsored me who donít even know me - and the same is the case on our industrial estate in Homefield Road.
"The main thing is we have raised a fair bit of money and people can still donate at www.justgiving.com/DavidAllan72"
* Our picture shows Dave summoning up the energy for a triumphant punch as he nears the end of the Tough Guy challenge.

Comment on this story
[board listing] [login] [register]
You must be logged in to post messages. (login now)