Town businesses among the most-loved in the country
Monday, 25th February 2013.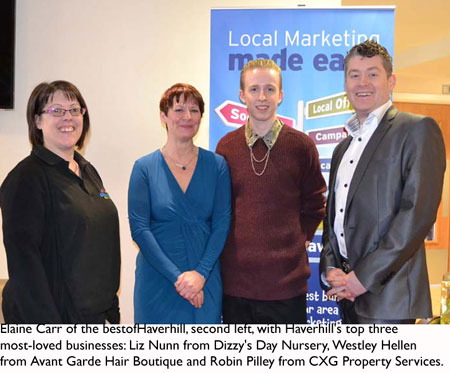 Haverhill businesses have featured spectacularly well in a national internet-based competition built around how much their customers like them.
The two weeks leading up to Valentine's Day are always a very busy time for local marketing company 'thebestof Haverhill' as they help spread the love for local businesses as part of the national 14 Days Of Love campaign.
The aim of the campaign is to encourage local people to 'show some love' for local companies by writing a review for them and to create awareness of the fantastic independent businesses in the town.
During the course of the national campaign the 'bestof' reported an average of one review being posted to the website every 24 seconds, and this increased in the last day or so of the campaign to a review being posted every eight seconds.
The business which received the most reviews, from the March 1, 2012, to midnight on February 14, 2013, is the 'most loved' in the town.
Acknowledging that it is easier for some types of businesses to gain reviews than others, the campaign also runs nationally across the most popular business categories on the 'bestof'.
Elaine Carr, owner of the bestof Haverhill, said: "Once again our local businesses showed just how lovable they are! We had nine of our bestof Haverhill members in the top five most loved businesses in their categories.
"This is quite an achievement when you consider the size of Haverhill compared to other towns and cities across the UK. Never mind Britain's Got Talent – in Haverhill we have plenty of business talent!"
PCRecruitment, who joined bestof Haverhill in December, came in fifth place in the recruitment agency category and are loved by their clients because of their professionalism, helpfulness, enthusiasm and understanding of requirements.
Perform Sports Therapy claimed fourth position in the physiotherapy category with owner Katie Ditchman being praised for her knowledge, expertise, first class advice and treatment.
P G Bailey & Son came in fourth place in the builders category with Mark Bailey and his team being acknowledged for being reliable, clean and tidy, friendly and professional.
Tony Strowger Jewellers is in third place in the jewellers category. They are loved because nothing is ever too much trouble for their customers; they provide excellent service and are a great place to go for gifts to suit all budgets.
C W Couriers is the second most loved courier in the UK. C W Couriers are loved because of their reliable, cheerful service. They are always professional, polite and friendly.
Aerocycles is the second most loved cycle and cycle accessories shop in the UK, very narrowly missing the first place. The reviews left for Aerocylces talk about their knowledge and expertise on everything related to cycling, the friendly and helpful service and there are lots of references to good cups of tea!
There was a tough battle taking place in the nursery category and one of the bestof's newest business members, Dizzy's Day Nursery, based in Hollands Road, scooped the prize for the second most loved nursery in the UK.
There were two businesses that came top of their category – CXG Property Services were the most loved letting agents and Finishing Touch Interiors the most loved interior designers. Finishing Touch Interiors are loved by their clients because of their attention to detail, sound advice and great design ideas.
The competition in Haverhill, based on the reviews received, saw CXG Property Services in third place with 89 reviews. CXG are loved by their tenants and landlords because they are proactive, professional, friendly and efficient.
In second place with 150 reviews was Avant Garde Hair Boutique. Owner Westley Hellen is loved by his clients for the way he transforms them. Many of the reviews claim he is the best hairdresser in town and comment on the warmth of the welcome and his talent.
The most loved business in Haverhill was Dizzy's Day Nursery. Established in 2002 and having an outstanding Ofsted report, Dizzy's joined bestof Haverhill in December and has gathered 371 reviews.
Nearly every review refers to the friendly staff. Parents say that Dizzy's is a warm, wonderful and welcoming place for children and their families, an extended family. The wide range of activities available to children is also mentioned frequently.
Liz Nunn, owner of Dizzy's Day Nursery, said: "We are delighted to win this accolade and have been genuinely touched by the lovely comments received over the last few weeks.
"We are the longest-established nursery in Haverhill and have built our reputation since 2002 as providers of first class, quality child care for local families.
"We have never been into entering awards, preferring instead to direct our energies into focusing on the children entrusted to our care. Winning the Most Loved Business in Haverhill, the second Most Loved Nursery in the UK and the 30th Most Loved Business in the country has made us realise that the parents who use our services really do appreciate us and love what we do and how we do it. Thank you to everyone who supported us."

Comment on this story
[board listing] [login] [register]
You must be logged in to post messages. (login now)