Town Facebook group is growing
Sunday, 22nd November 2009.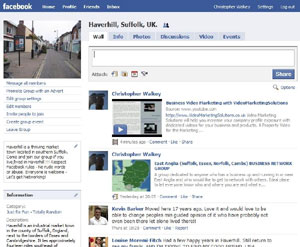 A dedicated group for Haverhill on Facebook has already gained over 400 members.
Christopher Walkey, who administrates the group voluntarily, says it is the largest dedicated group to Haverhill on Facebook and has members of all ages.
Facebook is now almost a household name. Once you have become a member, it can open up a whole new world of social and business networking with dedicated groups from wine-making to Cambridge United Football Club.
Mr Walkey said: "Networking on Facebook is very big and offers a great opportunity to meet up with like-minded people and even the chance to find long-lost friends and family members."
Haverhill's dedicated group on Facebook can be found at: http://www.facebook.com/group.php?gid=2367367742 where you can join for free and share your thoughts, ideas and memories on the group wall as well as uploading photos and videos.
"It is a friendly group with an ever-increasing number of members from Haverhill, former residents and even those that only have friends and family that come from Haverhill," said Mr Walkey.
Mr Walkey has also created another regional Facebook page dedicated to local business owners and self-employed people from the region where they can introduce themselves and their businesses and let everyone know the services they offer and where. This group can be found at http://www.facebook.com/group.php?gid=215087670832

Comment on this story
[board listing] [login] [register]
You must be logged in to post messages. (login now)