Town factory to deliver for new nut launch
Thursday, 8th December 2011.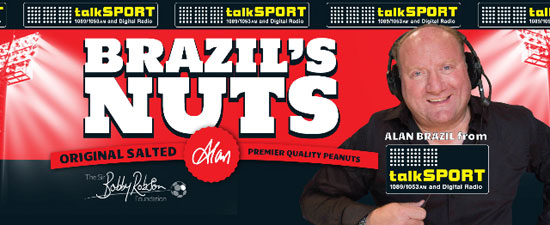 A Haverhill factory will be producing a new range of nuts being launched this in conjunction with national radio.
Snack specialist, Intersnack, has won an exclusive contract to produce the exciting new Brazil's Nuts range of premium quality peanuts, which launched this week in conjunction with talkSPORT radio presenter and football hero, Alan Brazil.
The range is being produced at Intersnack's specialist nut production unit in Haverhill, formerly Percy Dalton's.
It launches with two products - original salted peanuts and dry roasted peanuts and will be distributed initially through the licensed trade.
Significant marketing support is planned for the product including a six-week advertising campaign on talkSPORT Radio, plus Twitter, Facebook and PR activity involving Alan Brazil himself.
Interactive marketing techniques are intended to make Brazil's Nuts the UK's 'Most Interactive Bar Snack.' Each pack features QR and bar codes so that consumers can listen 'live' to talkSPORT Radio as well as accessing competitions, videos and other exclusive content using smart phones.
Clinton Burberry, sales controller at Intersnack said: "We are particularly excited by the marketing concept and activity behind Brazil's Nuts, which utilises some cutting edge interactive ideas.
"This makes the whole concept of bagged nuts much more interesting for consumers and should help the range be successful for the long term."
Intersnack is producing the Brazil's Nuts range for Vogue Branding on behalf of Brazil Sport Ltd - owner of the Brazil's Nuts brand. The range will be extended with cashews and chilli nuts early in 2012, followed later by other snack items.
A percentage of all annual sales revenue for Brazil's Nuts will be donated to the Sir Bobby Robson Foundation, which aims to find more effective treatments for cancer including the clinical trials of new cancer drugs.

Comment on this story
[board listing] [login] [register]
You must be logged in to post messages. (login now)