Town Pastors gearing up for busy Christmas
Wednesday, 30th November 2011.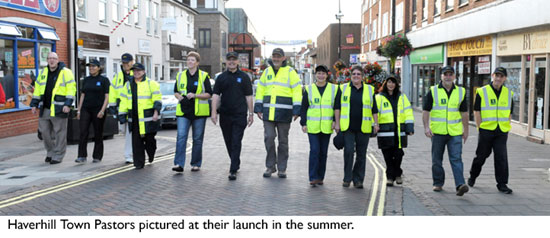 Haverhill Town Pastors are getting ready for a busy Christmas season out on the streets.
The Christian organisation, is out in the town on Friday evenings to provide a caring presence to local people, will be mounting extra patrols over the coming weeks 'to help people enjoy the festivities safely'.
Since going out on the streets for the first time in August, the pastors have provided support in over 300 incidents.
Pastor co-ordinator Andrew Payne said: "There's been no such thing as an average night for the pastors. We've been called on to deal with all sorts of situations ranging from supporting vulnerable people to calming potential confrontations.
"By working closely with the police and local authorities, we've been able to have a positive impact in the town centre and help people enjoy themselves without getting into trouble."
The work of the pastors, who are all volunteers, is supported by a network of local Christians who pray for them as they are out on the streets.
Chair of Town Pastors, the Rev Karen Knight from the Old Independent Church, said: "The support of our prayer team is vital to our continued success.
"I know it provides the pastors with a huge amount of strength as they take on their difficult task. I'd strongly encourage other Christians from around Haverhill to consider helping us in this way."
With Haverhill's late-night shopping evening fast approaching, the pastors will be out to support one of the town's busiest nights of the year. They will also be on the streets on Christmas Eve and New Year's Eve.
One of the Town Pastors, Andy Cuthbert, said: "We expect the next few weeks to be really busy. As Christians, the Christmas season is particularly important to us, so we want to help make sure the celebrations aren't ruined for people in Haverhill."

Comment on this story
[board listing] [login] [register]
You must be logged in to post messages. (login now)