Town's broadband links to become superfast
Thursday, 30th September 2010.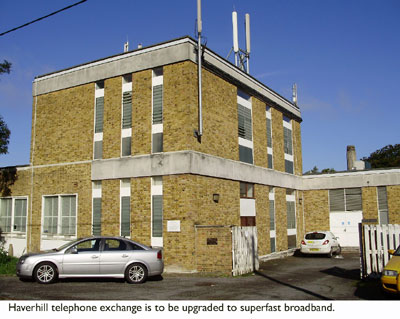 Superfast broadband is coming to Haverhill, removing one of the major problems for town businesses.
BT has announced it is to upgrade the Haverhill exchange by May next year to superfast broadband.
Delighted town MP Matthew Hancock revealed the news yesterday, saying it would be a big boost to businesses in Haverhill and to everyone in the town who uses broadband.
"I am delighted BT is making this upgrade," he said. "It will have a very positive impact on businesses in Haverhill and help us to compete in these difficult times.
"The issue has been raised with me by businesses throughout Haverhill and it is something I have raised with BT and in Parliament.
"By next summer we will now have some of the fastest broadband in the world."
Richard Herbert, chairman of business group Haverhill Enterprise, which has been calling for an improvement in the town's broadband links for a long time, said: "This is long overdue for a town as big as ours.
"At Herberts we host a lot of computer contracts which are dealt with entirely by e-mail, so it is very important to us and our customers.
"But it's not only us, of course. It will be welcomed by the business community in general. We have all been jumping up and down saying how much it was needed.
"Not having it is a definite disadvantage to businesses and I would say that has been noticeable for the last two years."

Comment on this story
[board listing] [login] [register]
You must be logged in to post messages. (login now)