Townsend is tops in bare knuckle event
Thursday, 8th April 1999.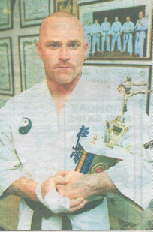 THIRD Dan karate teacher Kevin Townsend has won a full contact event in Birmingham.
Townsend, of Spring Cottages, Haverhill, runs full contact Cempa ,karate classes at Saffron Walden and Clavering, and has been taking part in the sport for the past 15 years.
He had been training hard for the past two months for the bare knuckle knockdown event at Birmingham, where around 100 people were entered in his middleweight section.
The rules allow body punches, kicks to the head and body, but not the face. Townsend had to fight six minute rounds, but all his fights were stopped in two minutes, except the final which lasted four and a half.
Despite suffering broken ribs, fingers and toes, Mr Townsend says this is the karate style which suits him best, and hopes to start a full contact club in Haverhill.
"I have tried others styles, but I could not get used to wearing gloves and pads. I was surprised to win, I didnít expect to come anywhere," said Townsend.
Anyone interested in joining a full contact club should contact Townsend on (01440) 761013.

Comment on this story
[board listing] [login] [register]
You must be logged in to post messages. (login now)