Trade fair will show off Haverhill businesses
Monday, 19th April 2010.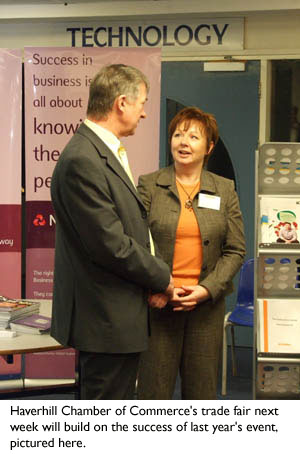 Businesses in Haverhill will get the chance to showcase their products and services at a trade fair organised by the Haverhill Chamber of Commerce next week.
The Haverhill Chamber of Commerce Member Showcase, which takes place at Samuel Ward Arts and Technology College on Wednesday, April 28, is this year open to all businesses in the Haverhill area.
Entry to the showcase, from 6pm to 9pm, is free for members of the public.
A free employment law workshop will take place during the evening run by local solicitors Stevens and Adams Harrison, along with a business card draw to win a bottle of champagne.
Sarah Howard, chairman of the Haverhill Chamber of Commerce, said: "We have opened up our showcase to allow both members and non-members of the chamber to exhibit this year.
"This is a great networking event and a chance to find out about businesses in Haverhill and the chamber.
"If you are an established business in the town or just starting up then this is a great way to make contacts and promote your services."
For more information telephone Sue Warren on 01440 705578 or email suewarren@haverhillchamber.co.uk. For more information on Haverhill Chamber of Commerce events visit www.suffolkchamber.co.uk/haverhill

Comment on this story
[board listing] [login] [register]
You must be logged in to post messages. (login now)