Triathlete Jack completes half-ironman race
Tuesday, 13th August 2013.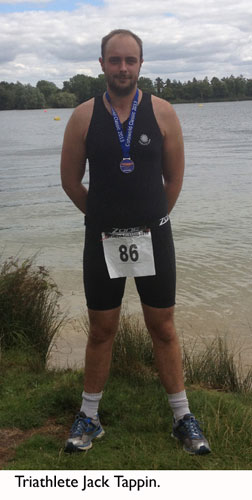 Haverhill triathlete Jack Tappin headed to Cotswolds to tackle the gruelling Cotswold Classic Triathlon on Sunday.
The middle distance/half ironman-length race consisted of a 1.2-mile/1.9km swim, a 56-mile/90km cycle and finally a half marathon - a 13.1-mile/21km run - with Tappin completing the course in six hours 24 minutes 34 seconds.
The 26-year-old completed the swim around the Ashton Keynes Water Park lake in 53min 19sec.
He then covered the cycle route out through the surrounding Gloucestershire villages in 3hr 13min 17sec.
The Haverhill Running Club member finally completed the half marathon in 2hr 9min 3sec.
"The weather was nice but it was still tough going," said Tappin.
"It wasn't a great time and I had some problems in the cycle which set me back, but when covering this distance I'm just pleased to complete it."
Twenty-one triathletes failed to finish the race, which was won in a time of 4hr 1min 27sec by Duncan Shea-Simmonds.
Next up for Tappin is his final triathlon of 2013 - the Olympic distance (0.9-mile/1.5km swim, 25-mile/40km cycle, 6-mile/10km run) Nic Tri triathlon in St Neots on September 8.
"Thirteen months ago I completed my first sprint triathlon (750m swim, 20km cycle, 5km run) in Norwich, and now I've done three middle distance races this year," added Tappin.
"At the start of the year I wasn't confident that I could manage that distance and barely slept before my first attempt at the Big East Triathlon (at Bradwell on Sea on May 5), so I'm pleased with how I've progressed in the sport in 2013.
"There's a lot of room for improvement with my swimming and next year I'd like to target completing my first marathon and aim for a sub six hour middle distance triathlon."

Comment on this story
[board listing] [login] [register]
You must be logged in to post messages. (login now)