Triathletes battle away in the blazing heat
Monday, 15th July 2013.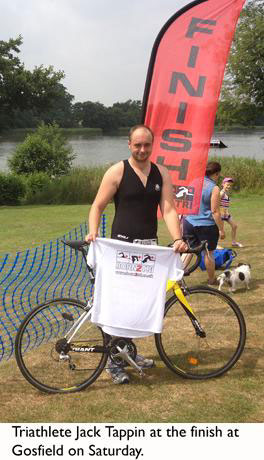 Haverhill runners Jack Tappin and Sue Turley represented the town at the Gosfield Lake Triathlon on Sunday.
The Olympic-distance event, near Halstead, consisted of a 1.5km (0.9mile) swim, a cycle route extended to 43km (27miles) due to a road closure and finally a 10km (6.2mile) run in the baking heat.
Tappin, 25, completed the swim in 34min 52sec, the cycle in 1hr 33min 6sec and the run in 53min 42sec for a finish time of 3hr 13min 36sec.
Turley, 50, finished the swim in 30min 21sec, the cycle in 1hr 28min 2sec, and the run in 56min 10sec. Her overall time was 2hr 57min 47sec and she finished eighth in the women over 40 section.
"The swim was deceivingly long and the cycle route was fairly hilly," said Tappin. "The heat really hit me once I started the run as it was a blazing hot day - too hot to be doing an event like this!"
Next up for Tappin is the London Triathlon on July 28, also Olympic distance, before he tackles the half-Ironman length (double Olympic length) Cotswold Classic Triathlon on August 11.

Comment on this story
[board listing] [login] [register]
You must be logged in to post messages. (login now)