Triumph and disaster for golfers in cup competitions
Tuesday, 29th June 2010.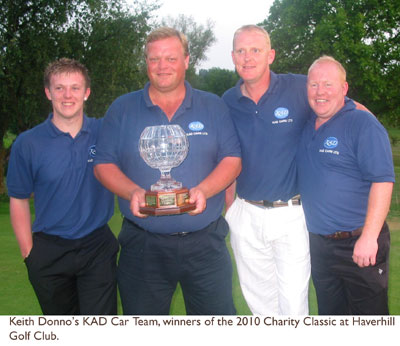 The 2010 Curry Cup campaign is now well underway and Haverhill Golf Club's fixture at Fynn Valley on Saturday, June 19, saw them secure another victory by 10½-7½.
The morning match results were (Haverhill team first): Andy Fish & Richard Boyles won 3&1 against Peter McCartney & Steve Byford, Gary Liddle & Bob Spittle won 3&2 against Lewis Last and Ian Phillips, Eamonn Bareham & Lee Chandler won 2&1 against Paul Gray & Dave Hornsby, Ted Fairhead & Kim Ward lost 4&2 against Tony Alcock & Carl Warnes, Andy Craig & Dave Whiting lost 3&1 against Donald Munro & Gary Hignett, Graham Ashcroft & Russell Gritty won 6&3 against Elsworth Holder & Paul Nichols.
The afternoon singles match results were (Haverhill team first): Richard Boyles lost 3&2 against Peter McCartney, Andy Fish won 6&5 against Steve Byford, Gary Liddle conceded his match to Lewis Last, Bob Spittle won 6&4 against Ian Phillips, Lee Chandler won 4&2 against Paul Gray, Eamonn Bareham won 3&1 against Dave Hornsby, Andy Craig halved his match against Tony Alcock, Lewis Whiting lost 1 down against Carl Warnes, Kim Ward won 2&1 against Donald Munro, Ted Fairhead won 2&1 against Gary Nignett, Russell Gritty lost 6&5 against Elsworth Holder and finally Graham Ashcroft lost 3&1 against Paul Nichols. Joe Davis' team now meet South Essex at Haverhill on Saturday July 3.
The seniors' winning streak was halted on Tuesday, June 22, at their away match against Fynn Valley where they were finally overcome by the hosts 3½-4½. On Friday the seniors travelled to Bourn for their away fixture, but unfortunately lost 1-7.
On Wednesday, June 23, the IFF Challenge was won by David Roope with a fantastic nett 63, and as a result he has had his handicap cut by two shots to 14.
The full results were: Division One, 1 Paul Hinchliffe 74-8-66; 2 Alastair Cocks 80-12-68; 3 Andy Fish 73-5-68.
Division Two, 1 David Roope 79-16-63; 2 Trevor Broomfield 84-19-65; 3 Tim Daniels 80-13-67.
Division Three, 1 Paul Donno 88-23-65; 2 Roger Hartley 94-28-66; 3 Adrian Lord 93-23i-67.
Sadly the Haverhill ladies are out of the Cranworth after their away defeat at Newton Green on Thursday, June 24. Lady captain, Sally Price said the overall scores did not reflect just how close all the matches were and thanked the team and their caddies for their support for this 36-hole event.
The morning foursomes results were (Haverhill team first): Sally Price & Lyn Fish 1pt-4pts vs Norma Humphrey & Glenys Grove, Sarah Field & Gerry Wheatley 0-5pts vs Janet Sparks & Alice Taylor, Doreen Darbey & Catie Heathfield ½pt-4½pts vs Jill Symonds & Sue Lockwood.
The afternoon singles matches results were (Haverhill team first): Sarah Field 0-5pts Norma Humphrey, Lyn Fish 2½ pts-2½pts Janet Sparks, Catie Heathfield 5pts-0 Glenys Grove, Gerry Wheatley 4½pts-½ pt Jill Symonds, Sally Price 0-5pts Sue Lockwood, Doreen Darbey 1pt-4pts Alice Taylor.
The 2010 Charity Classic was another successful day, with 30 teams competing to raise funds for St Nicholas Hospice and the Rotary Club. The format was four ball Stableford, full handicap with three scores to count.
Winning with an incredible 145pts were the team of Keith Donno's KAD Cars. Earlier in the week, Keith also celebrated a hole-in-one on the par three, 116-yard eighth hole using a pitching wedge.
In second place were Foreplay with 133pts and in third The Presidents Men with 129pts. After the prizegiving, Kevin Carpenter wowed the golf club members and visitors with his amazing golf trick-shot show. The evening's entertainment continued with a charity auction hosted by comedian Jed Stone.

Comment on this story
[board listing] [login] [register]
You must be logged in to post messages. (login now)