Valley regular returns to his old school
Tuesday, 18th June 2013.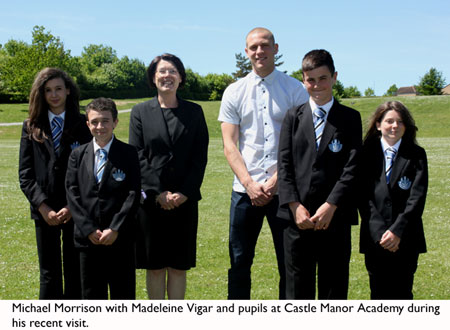 A former pupil of Castle Manor who is now a Charlton Athletic defender, returned to the school to have a look round recently.
Michael Morrison grew up in Haverhill, honing his skills on local football fields and with the school football team.
He left Castle Manor in 2004 and was signed by Cambridge United the following year. From there he moved on to Leicester and then Sheffield. In 2011 he joined Charlton Athletic, where he is currently a regular player and vice-captain.
Recently Michael invited Madeleine Vigar, Principal of the Castle Partnership, who he remembered joining Castle Manor when he was in Year 11, to attend a Charlton Athletic match, along with her dad, who is a life-long Charlton fan.
The thought behind this experience left a mark on Ms Vigar who reflected on the evening saying: "It was a fantastic experience for me to see another one of our students successful in their chosen career.
"Michael was a real professional; he played well with dedication and commitment. At the end of the game he made a point of coming to see my father and showed himself to be a perfect gentleman in the process too."
Ms Vigar was keen to invite Michael back and see how the Academies have changed. "It's great to have him back here, to reflect on the time he spent with us and inspire another generation to give their all towards achieving their goals," she said.
Michael had a packed visit, touring both Place Farm and the Castle Manor Academy Campus. He also spent some time looking at the site where the trust plans to build a new All-Through Academy, when they can secure funding.
Michael will return to Castle Manor for their Year 11 Graduation to help celebrate their success.
Michael was still full of enthusiasm at the end of his visit and said: "Itís brilliant to come back and see the schools I loved so much.
"Theyíve changed a lot and are now full of enthusiastic, hard working students. Iím really hoping to come back and keep working with everyone on some exciting projects in the future."
Michael will return to Castle Manor Academy at the beginning of July for the lower school prize giving ceremony.

Comment on this story
[board listing] [login] [register]
You must be logged in to post messages. (login now)