Vote for Haverhill !!
Friday, 11th May 2007.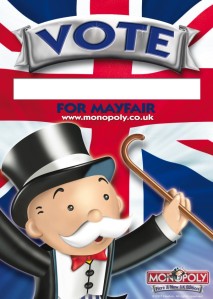 How great would it be to see Haverhill occupy a position on the new Monopoly Here & Now UK Edition board game?
It is possible if we get enough votes registered
on the monopoly website.
YOU CAN VOTE ONCE PER DAY
Click on the link below ...
http://www.monopoly.co.uk/vote.aspx
... and vote !!!!
(Click on the Wildcard Signpost to vote for Haverhill)
Please tell all your friends, family, pets and people you vaguely know to help the cause!!
We can do this, if we try. Just pass this information on to a few of your friends and family and ask them to vote and then forward the email on to a few of thier friends. Even if you just passed it on to 8 others and they in turn pass it on, assuming that they all voted, then it would only take 4 more loops of this process to have a staggering 32,768 votes.
8 x 8 x 8 x 8 x 8 = 32,768 votes !!!
Obviously not everyone will vote and some emails will go to the same person twice but as of today (11/May) we only need 9786 votes to do it.
Please help the cause - Get Haverhill on the Monopoly Board !
Cheers
Jason Fitzpatrick
Webmaster - www.Haverhill-UK.com

Comment on this story
[board listing] [login] [register]
You must be logged in to post messages. (login now)