Wedding Joy For Heartbreak Couple
By Jo Deeks on Friday, 18th November 2005.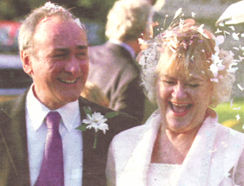 After a heartbreaking year it was smiles all round on Saturday for a couple who tied the knot only a month after fire devastated their home.
Nick and Joanna Totty were determined to go ahead with the wedding as planned, despite the fire which wrecked their listed thatched cottage at the beginning of October.
An extra cause of celebration for the couple just before their wedding at All Saints Church in Castle Camps, was the news that Joanne had received the all clear from doctors after a major operation on the rare form of cancer she has suffered from for some time.
Neighbours rallied round the couple after the fire which completely destroyed the thatch on their home at High Street, Castle Camps, and they were able to rent a cottage next door while it is rebuilt. Joanna said many villagers turned out to wish them well on their big day.
"We had a wonderful day and the fact that I got the good news about my cancer made it extra special. I still have to go back for check ups every six months but they had taken away everything which was there. They are hoping to have the thatch back on by easter and they have said the house could be ready in less than a year, but we will have to wait and see. They will be able to build in fire safety features.
I cannot believe how everyone has helped us in the village. We have always liked the place. Origionally I had a flat in London and we only came at weekends, then we decided we did not want to be weekenders. We started to get to know people better and since the fire we have got to know them better still. We will certainly be staying here now." Joanna said.
Nick, a scientist for Cancer Research UK, said the fire was a terrible thing to see, but nothing compared to the cancer which had threatened Joanna's life.
He said: "The fire was unfortunate but the cancer was a great deal more serious. You can always rebuild a house, but we were not always sure we could do the same for Jo. It is wonderful to have something positive happen to us after what has happened over the past few years."

Comment on this story
[board listing] [login] [register]
You must be logged in to post messages. (login now)