Weightlifter takes gold at first attempt
Thursday, 10th June 2010.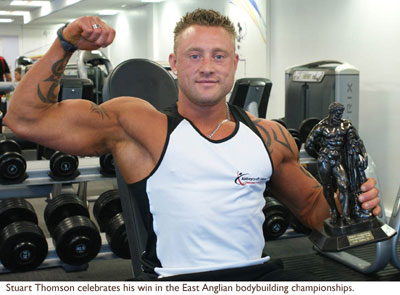 Haverhill
Leisure Centre
member Stuart Thomson has won the ASN East Anglia Bodybuilding Championships.
Supported by Abbeycroft Leisure, Stuart, 28, of Vanners Road, Haverhill, took first place in the first timers class at the championships at Britannia Pier in Great Yarmouth at the weekend.
It was the first time he had entered a bodybuilding competition. Stuart will now compete in the Novice Height Class British Finals in Birmingham on November 28.
A member of the
Leisure Centre
gym for the last 12 years, Stuart started weight training at 16 after watching his dad Dale train.
He had been training intensively for the last 22 weeks for the competition and entered the competition as Stuart Thomson from Abbeycroft Leisure.
He said: "It was just a fantastic feeling to win and overwhelming. It was very nerve-wracking on stage and as this was my first competition I didn't know what to expect.
"The hard work and training has really paid off and I cannot thank enough Abbeycroft Leisure and all the supporters who came along to the competition to cheer me on.
"There were seven competitors in my group and when I got down to the last four it was fantastic. They then read out the runners-up leaving me standing there as the winner. It was brilliant. Everyone said that the last four was so close to call."
Stuart will now start training for the finals by changing his diet and cardio-vascular training to ensure he is in even better shape.
He said: "I have five months now to train so I am going to work even harder on cleaning up my diet and increasing muscle.
"This competition will bring together all the winners from the regional championships to compete for the British title so I have to continue to train hard."
Dominic Greenwood, general manager at Haverhill
Leisure Centre
, said: "We are so proud of Stuart. This is a fantastic achievement, especially for his first competition.
"He has become a role model in the gym, inspiring other younger members to train for their goals and sharing with them his progress, training programme and eating plan. We are proud to continue to support Stuart for his British title bid."

Comment on this story
[board listing] [login] [register]
You must be logged in to post messages. (login now)