West Suffolk sprint trio in top-time runs
Thursday, 15th June 2000.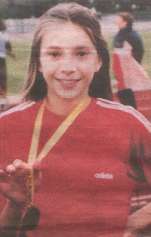 SEVERAL good performances by West Suffolk Athletic Club athletes at the Suffolk athletics championships have booked their places in the squad for the English Schools Championships at Sheffield next month.
Others are not quite there, but still have a chance to prove themselves over the next few days. Three of the club's impressive sprint group won races within the English Schools standard and are now sure of selection. Jemma Thake and Chris Stamp won both 100 and 200 metres in the junior age group.
Thake's times of 12.5 sec and 26.2 sec, both within the standard, reaffirmed her position as Suffolk's premier sprinter. Stamp clocked 11.9 sec in 100m to leave him just outside certain selection, but a 200m time of 24.1 sec was well within the required time and will now probably be his choice of event. Intermediate girl Louisa Wells also ran a qualifying time in 100m at 12.6. It is likely to bring her selection, although she also won the 200m in a time of 26.6. West Suffolk's surefire selection is Jo Chapman, for whom this will be her third successive English Schools. She had already surpassed the standard in javelin, and although she fell a little short on this occasion with 33.33m, she was a clear champion by a full seven metres.
Chris Knox continues to press his claim in intermediate boys high jump, winning the competition in a personal best of 1.85m, ahead on countback of the impressive all-rounder from Ipswich Harriers, Jermaine Bernard.
Anna Clayton enjoyed a fruitful day, taking victory in intermediate girls long jump, improving her personal best by 21 centimetres to 5.26m. It left her a few centimetres short of the official standard, but another good day at the Anglian Schools Championships this weekend could tip the balance. Clayton also ran an impressive 200m, taking second behind Wells in a personal best of 27.0 sec, and finished second in high jump with 1.50m.
Clayton's main target this year is to reach the English Schools heptathlon championships, and she will represent Suffolk Schools in the regional competition next weekend. Qualification to what is recognised as the main event at Sheffield would be a bonus for her.
Wells was runner-up in long jump and will join her clubmate at the Anglian Schools.
First year junior high jumper Tania Spurling added the schools title to the Suffolk County Championship, which was won last month. Her leap of 1.44m took her back to the form of a few weeks ago and was the start of an excellent weekend for her.
Spurling cannot realistically expect to achieve English Schools qualification this year. She has also made good progress in sprint hurdles in which she recorded a personal best of 13.3sec. West Suffolk had no other champions, but senior boy Martin Arnold was second in both 100m and 200m. Arnold was impressive in both races and was edged out in the 100m after clocking the same time as the winner.
In the 200m, he lost by a tenth of a second in 24.3 sec. Claire Fuller took second place in the senior high jump, and Nikki Warton third in intermediate javelin, with 25.73m. Adele Donaldson recorded a season's best of 1.45m to take third in intermediate high jump, and Claire Goodfellow and Sam Gaskell, although unplaced both set personal bests — Goodfellow with 13.9 in 100m and 4.49m in long jump and Gaskell with 2 min 47.2 sec in the 800m.
Roger Burton and Seb Palmer also performed well, Burton in the junior long and high jump with 5.25m and 1.55m respectively, and Palmer in the 3,000 metres.
Josh Parkington, meanwhile, took part in the Cambridgeshire Schools Championships, winning the 400 metres in a time of 53.9 sec.
On Sunday, a team weakened by the excesses of the day before, travelled to Walthamstow for another fixture in the Eastern Young Eastern Athletes League. Most of those who had performed so well at Ipswich took a welcome and well deserved rest, but many other club members failed to attend for no particular reason.
It was a shame that, for so many, club training does not translate often enough into participation at the events for which the training and coaching is intended.
Those who did attend represented their club tirelessly and with much credit, winning a number of events and setting a host of personal bests.
Parkington, striving for a schools qualifying time, won the 400m, but was disappointed with a time of 55.1sec. It was, perhaps, just one race too many on the weekend after having to come through heats the day before.
There were also "A" String wins for Andrew Harland in javelin and Liam Wright in both high jump and long jump. Harland's javelin was a personal best of 44.47m, part of a series of throws which saw him beat his previous best three times in the competition.
Wright's jumps were 1.65m and 5.41m. The pair also recorded "B" String wins in jump and javelin where they doubled up to good effect.
There were personal bests for Jack Cator (shot putt — 4m), John Taylor (200m — 28.9 sec), and Peter Fellingham (800m — 2 mins 31.3 sec).
For the girls, Claire Goodfellow and Tania Spurling followed a good Saturday with an even better Sunday.
Goodfellow added to her long jump personal best again, this time with an "A" String win at 4.70m, the best jump by an under-15 for the club this season. She took second in shot putt with 7.30m, yet another personal best.
Spurling was in sparkling form as she reduced her hurdles best by a further half a second in winning the "A" string in 12.8 sec. She then went on to win the high jump, adding a further four centimetres to her previous best with 1.49m. It left her just six centimetres below the English Schools standard, which she ought to reach next year.
Sam Gaskell was another athlete who worked tirelessly after a hectic Saturday. On this occasion she was just outside her new personal best in 800m from the previous day, but scored well with first place in "B" String 100m.
Disappointingly, only one under-13 girl made herself available for the meeting, but for Sarah Goodfellow it was a worthwhile day with a good win in shot putt with 5.43m and second in long jump with a personal best of 3.78m.
West Suffolk finished fourth of the five clubs in the match, a good team performance with several excellent individual results.
(Picture Caption: JEMMA THAKE ...sprint double win in fast times.)

Comment on this story
[board listing] [login] [register]
You must be logged in to post messages. (login now)