Why not open your garden for Haverhill in Bloom?
Wednesday, 18th April 2007.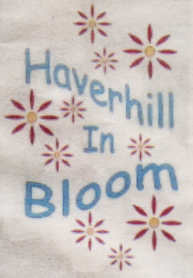 If you'd like to show off your garden while helping to raise vital funds for valued local charity St Nicholas' Hospice, then you should look no further than Haverhill in Bloom's first ever open gardens event.
The fundraiser will see green-fingered enthusiasts explore gardens of all shapes and sizes throughout Haverhill. The event, which takes place on 1 July, has been designed to raise money for St Nicholas' Hospice, which is based in Bury St Edmunds and cares for terminally ill people from across West Suffolk and Thetford. Organisers also hope the day will help encourage people to get involved with Haverhill in Bloom, which is supported by St Edmundsbury Borough Council and
Haverhill Town Council
and is now in its third year.
Tim Radford, chairman of Haverhill in Bloom, said:
"We are pleased to include this initiative as part of this year's Haverhill in Bloom events. All of our other events are competitive and this one is not which we hope will prompt residents to take part. Does an open garden have to be an award winning large garden? Not at all, just one that the resident is willing to share with other interested parties from around the town."
Anyone who has a garden and would be happy to let other people look round is welcome to take part. Whether your garden is big or small, simple or elaborate, the event will give you the chance to enjoy the benefits of your hard work by showing your efforts to appreciative visitors.
It is hoped that at least ten gardens will be open on 1 July. If you are interested in taking part, please contact Tim Radford, on 01440 707922 or email:
E-Mail Link: tim@haverhillinbloom.org.uk


Comment on this story
[board listing] [login] [register]
You must be logged in to post messages. (login now)