Wickhambrook Panto - We're Back!!
By Steve Taylor on Friday, 3rd January 2003.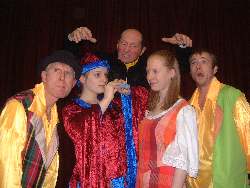 Rehearsals are in full swing for the popular Wickhambrook Panto being staged at the village's Memorial Hall by the Wickhambrook Players from Saturday 18th to Saturday 25th January inclusive. Having always used original scripts, this year's production of the 'Pied Piper' was written by Player's member Colin Bird and is directed by Sarah Wall.
Pictured are Comedy duo Riff and Raff played by Paul Thomas and Vince Harvey: panto villain Baron Schneer – Jeff Goodacre; Ingrid – Harriet Thomas, and the Pied Piper played by Heidi Stubbings.
Tickets are still available for some performances, priced at £5 and £3.50 concessions and can be ordered by calling the box office on 01440 820900.

Comment on this story
[board listing] [login] [register]
You must be logged in to post messages. (login now)