Women's Vision in a Man's World
Friday, 15th October 2004.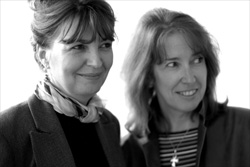 You would have thought it's quite enough to start a business without taking on, in addition, the responsibility of launching a new Chamber of Commerce & Industry.
Not so, for Charmaine Symonds and Elaine Collins of Gold. The two sisters (don't call them the Golden Girls!), as well as co-ordinating the Haverhill Chamber, are now setting the pace for establishing the first ever Haverhill Business Awards. A Gala Ball is set for May 2005, which is designed to be the Haverhill business event of the year.
Charmaine and Elaine are both directors of Gold, a company specialising in bringing people together. "We are basically about people, so for us the vision is always clear. We identify skills, matching individuals with companies, organise events and do aspot of marketing and PR too. We bring people together to achieve the very best for each party," says Charmaine.
Their combined background offers over thirty years experience in recruitment, training, personnel, event management, PR and marketing. Furthermore, through their many long standing contacts in the recruitment arena and the Essex and Suffolk Chambers of Commerce, they are exceptionally well placed and connected to identify and source the very best candidates for their clients and to potentially enhance the careers of individuals, with whom they are in contact.
On the recruitment side, specialising in the commercial, executive and professional sector, Gold covers the spectrum from office junior to managing director and have a financial section devoted to accountancy. Elaine explains, "Unlike larger competitors, we do not work in the 'volume market' and endeavour to access the 'best' talent in our specialist fields. We believe wholeheartedly that it is the individual consultant's past experience and knowledge, rather than the professed reputation of an agency brand, that secures success.
"It's all about expertise, successfully identifying the need, good planning and recognising and attracting the right people for the right position. In one sense we set the scene, write the script and locate the actors. It's a PR and marketing mix as much as anything. It's what we are best at and what we enjoy," says Charmaine.
Yes, even establishing a Chamber of Commerce & Industry did not phase Gold.
It began in October 2003. Having started their business four months earlier, Charmaine, who had previously been involved with Essex Chamber of Commerce, was amazed to discover that Haverhill possessed no official body to represent the business community! The two sisters set about selling the Chamber principles to business colleagues and within two months a formal committee was in place.
"It really was a case of looking for talented people, who were prepared to put something positive back into the Haverhill Business community and create a platform for the benefit of all businesses. We now have a group of highly skilled, energetic and enthusiastic individuals who are responsible for the success of the Haverhill Chamber. Again it was a matter of bringing the right people together," says Elaine.
The inaugural event took place in February 2004 and the response was overwhelming. Since then the Haverhill Chamber has become the fastest growing Chamber in the UK!
Within six months a second launch event was organised for the Haverhill Business Awards; an event sponsored by British Telecom. Two weeks down the line the first business award category was sponsored by Carisbrooke Alliance and other companies quickly followed including Barclays Bank and leading Haverhill manufacturing company, IFF.
Charmaine Symonds and Elaine Collins are modest individuals, but when they hear the familiar comment, "I can't believe two women could have started such a flourishing Chamber," they cannot help but smile.
Their reply?
"Yes, it may still seem to be a man's world at times. But in the background there's always a woman, shaping the scene, by bringing the right people together!"
And Chairman of Haverhill Chamber of Commerce, Paul Donno, agrees.' Without their vision, there would be no Chamber……..'

Comment on this story
[board listing] [login] [register]
You must be logged in to post messages. (login now)