Worthwhile journey to seaside for golfers
Tuesday, 17th November 2009.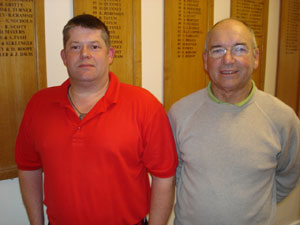 The midweek journey to Southwold was extremely worthwhile for Haverhill golfers who competed in the Suffolk Golf Alliance meeting.
Four ball better ball (4BBB) was the discipline and the seaside ozone appeared to act as a booster for the Coupals Road entrants.
Always a capacity-filled venue, the local players dominated the event taking all of the amateur prizes.
Birdies at the 18th par 3 hole by both Wayne Penman and Keith Brown aided their teamís scores with Wayne and partner Pat McGarr taking top spot with 43 stableford points. Keith had to settle for the runner-up spot with Steve Nichols beating Chris Briggs and Jim Walker on countback as both pairs recorded 42 points.
The individual professional prize went to Simon Byford of Bury St Edmunds club The Suffolk. The next Alliance meeting is due to be held at Newton Green Golf Club on Sunday, November 22, and is also a 4BBB event
The Haverhill menís midweek medal was played on November 11, with a great result for Michael Warren having the lowest gross score of 75, playing off a handicap of 9 for a nett 66.
The full results were as follows: Division One - 1 Michael Warren 75-9-66; 2 Jack Warwick 76-6-70; 3 Peter Garner 81-11-70.
Division Two - 1 Peter McLennan 80-13-67; 2 Julian North 82-14-68; 3 Dave Nicholas 88-19-69.
Division Three - 1 Patrick Mansfield 89-22-67; 2 Peter Owen 88-21-67; 3 Richard Sisman 90-22-68.
Despite the horrendous weather conditions on Saturday, the Anniversary Shield went ahead. This was a mixed team event played as a Texas Scramble, which was very well supported by all sections of the golf club.
The winners with an impressive score of 58.4 were Eamonn Bareham, Andy Softley, Timothy Daniels and David Roope. In second place with a score of 59.2 were Steve Rex, Mark Stanton, Julian North and Melvyn Stuart. In third place with a score of 60.6 were Andrew Fish, Paul Donno, Pat McGarr and Wayne Penman.
On Sunday, the HMP Cup Foursomes stableford was played. Fortunately the weather had improved considerably overnight and the competition, as a result, was very close. Winning with a score of 40pts on countback were the pair of Peter Driscoll and Colin Bradnum.
In second place also on 40pts were Daniel Wilkins and David Pipe and in third place with 39pts were Paul Borowy and Steve Nichols.
* Our picture shows Haverhill Golf Clubís Wayne Penman and Pat McGarr, winners of the midweek Suffolk Golf Alliance at Southwold.

Comment on this story
[board listing] [login] [register]
You must be logged in to post messages. (login now)