Young Archaeologists' Club re-launches
Monday, 9th March 2009.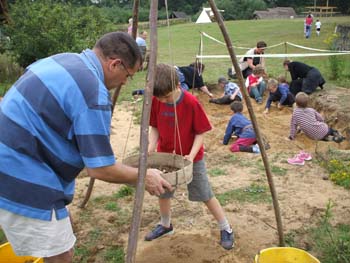 Bury St Edmunds Young Archaeologists' Club is celebrating its membership of the UK-wide Young Archaeologists' Club with a discovery session on Sunday 15 March at West Stow Anglo-Saxon Village. Anyone interested in finding out more is welcome to come along.
The Bury St Edmunds club and the Heritage Service of St Edmundsbury Borough Council are working closely on a full programme of events such as field walking and trips out. Regular meetings are held at West Stow and Moyse's Hall. The discovery session, held between 2pm and 4pm, will give members the opportunity to test their own ideas by building mini-reconstructions and sharing the outcomes.
The Young Archaeologists' Club is the only UK-wide archaeology club for young people aged 8 to 16 years.
Further details can be obtained from Moyses Hall Museum, 01284 706183; from West Stow Anglo Saxon Village 01284 728718 or email
E-Mail Link: gill.hawkins@stedsbc.gov.uk


Comment on this story
[board listing] [login] [register]
You must be logged in to post messages. (login now)