Young businesswoman shows the way forward
Monday, 29th April 2013.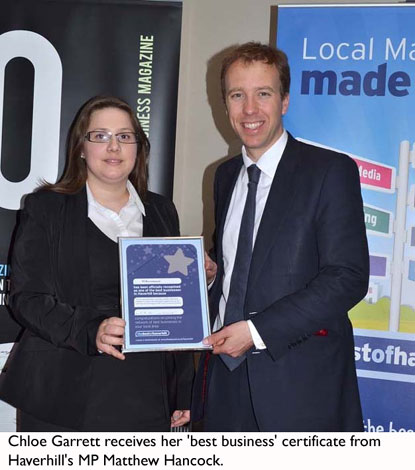 With high-profile concerns around young people in Haverhill not in education, employment or training (NEETS), one young woman is showing just what can be done.
At a recent meeting of thebestof Haverhill, held at the Days Inn, her local business was awarded a 'best business' certificate for being highly recommended by its clients.
PCRecruitment, owned by 24-year-old Chloe Garrett, specialises in executive recruitment and supplying contract, permanent and temporary staff to companies in Haverhill and beyond.
Located on the corner of Station Road, Haverhill, the company was founded in September last year but has quickly established a reputation for providing the highest standards of service and for taking its social responsibility very seriously.
PCRecruitment is recommended by its clients for its professionalism, expertise, genuine enthusiasm, willingness to listen and fully understand requirements and its commitment to go the extra mile.
Chloe received her certificate from Haverhill's MP Matthew Hancock, who was guest speaker at the meeting.
Elaine Carr, owner of thebestof Haverhill, said: ďAll businesses have to be recommended before they are considered for membership of thebestof, to ensure that we only showcase the best organisations in the area.
"It is clear from their reviews that PCRecruitment is highly regarded by the companies and candidates it serves. One of the comments actually states that they are a 'credit to the recruitment industry' Ė I donít think you can receive a stronger accolade than that!
"Considering the high number of unemployed young people in Haverhill it is inspiring to find someone like Chloe who combines her six years' experience in the recruitment industry with real enthusiasm and ambition.
"There is such a wealth of young talent in Haverhill and the surrounding area itís important that we shout about it. Hopefully this will encourage other young people to consider setting up their own businesses.Ē
To find out more about PCRecruitment visit www.pcrecruit.co.uk or call Chloe Garrett on 01440 268193.

Comment on this story
[board listing] [login] [register]
You must be logged in to post messages. (login now)