Young footballers to shine at Portman Road
Monday, 13th September 2010.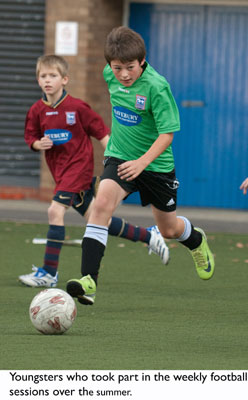 Young footballers from Haverhill who took part in a summer scheme will be competing in a mini-competition at the home of Ipswich Town on Sunday.
Youngsters from Haverhill and Bury St Edmunds were involved in weekly sessions with Ipswich Town Community Trust over the summer.
On Sunday they will be participating in a mini-football tournament at Portman Road as part of Havebury Housing Partnership's first family fun day.
Smoothie-making, yoga sessions, football and Nintendo Wii games are just some of the activities lined up for the day.
Everyone is invited to the event, to be held by the affordable homes provider in conjunction with Ipswich Town Community Trust on the Community Pitch at Portman Road.
Havebury's stronger communities advisor Charlotte Carter explained that there was a firm focus on health and fitness at the fun day, which takes place from 9.30am to 4pm.
She explained: "Through the different activities, which also include golf, boxing and rowing challenges, we'll be highlighting the importance of exercise and healthy lifestyles.
"There will also be healthy eating options, and we'll be giving out nutritional advice to families. It will be a very family-orientated day with something for everyone to enjoy."
"The summer football sessions were open to youngsters aged between 11 and 14 who live in the Haverhill and Bury St Edmunds areas," she said. "They really enjoyed learning from the Ipswich Town coaches and are looking forward to showing off their new skills at the family fun day."
Havebury chief executive Karen Mayhew said the partnership was committed to being actively involved in the local community. She added: "It's great to have events like this to bring people together in a fun environment but one which can be really beneficial in terms of education."
Havebury, which manages 6,000 homes, has offices in Haverhill and Bury St Edmunds.
For more information about Havebury Housing Partnership, call 08456 123 851 or visit www.havebury.com

Comment on this story
[board listing] [login] [register]
You must be logged in to post messages. (login now)