Young Haverhill Sports Star Seeks Business Sponsorship
Thursday, 29th May 2008.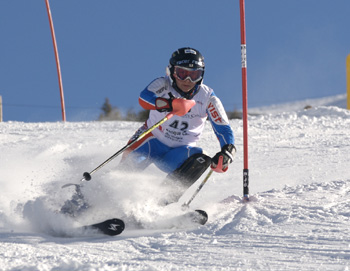 TEENAGE Ski champion Alessia Thomas-Jackson, recently selected to the English Alpine Junior (under 19) FIS Ski Squad, is desperately seeking business sponsorship to help towards her costs during the coming season.
14-year-old Alessia, who attends Haverhill's Castle Manor Business & Enterprise College when she is not training and racing in Austria, already holds a clutch of ski titles including Welsh Alpine Overall Female Giant Slalom Champion 2008 & English Alpine Overall Children Giant Slalom Champion 2008.
Now Alessia's family are hoping a local firm may be able to step in and sponsor her to help with increasing costs as she hopefully heads for further alpine success.
Alessia's mum says, "The sponsors will be able to advertise their logo on the hat that she will wear to every prizegiving no matter what country she is in. These will include Norway, Sweden, Italy, Austria and France."
Photograph shows Alessia in action in the Welsh Alpine Championships in Switzerland in Jan 08.
For information regarding sponsorship please call: 07530709356
or email
E-Mail Link: nikitj@btinternet.com


Comment on this story
[board listing] [login] [register]
You must be logged in to post messages. (login now)